01 april 2003
April fools' day. I can't withstand the moment of you not knowing that you're doing well. Perhaps it is your way of fading away and this I would remember you by your lovely smile and will not at all see that twinkle in your eyes. I miss you. It's now late in the evening. I'm off to sleep. I will wake up the next day rejuvenated. I have always believed in you. Let me continue to believe in you.
---
02 april 2003
I was so glad today that help has come my way. Some people are sensitive to the needs of others even without words. I feel motivated today and being able to see how people need people. And in my profession I see this everyday. Everything in this world were put into being to fulfill its destined task.
What completes you? I sometimes ask this in my thoughts. I wish you can manifest this without me uttering a word. Will I ever feel this? When was the last time? Do I still have faith left? What's keeping me together is my faith in you. Perhaps I would miss you in this lifetime and will be able to meet up in the next. It's like living in parallel universes but we have commonness. We belong to each other.
---
03 april 2003
The war in Iraq is still going on. In war, there are no victors but victims.
One of my friends has just arrived from the Philippines after going to school there. I will probably see him in the weekend. He's getting married late this year and coincidentally I will be on that side of the world. I'm so glad he finally found someone who will grow old with him. He's wishing me the same. Thanks pal.
---
04 april 2003
I wore my casual Barong Tagalog at work and not the usual Aloha shirt that I wear. It feels comfy and it really has a place for it and goes along with the suits crowd.
---
07 april 2003
Presence
by Keoni

this is where i begin...
sadness crept into my being
alas came an essence
that turned into a presence
weeping is no longer the order of the day
i will no longer feel lonesome starting this day
---
10 april 2003
Inspired and Healed
by Keoni

Inspired by the moment...in a still night.
Sweet scent...a voice that tingles.
And every heart beat, a song that comforts.
Healed at last.
---
13 april 2003
IBD's 10 Secrets to Success
Investor's Business Daily has spent year analyzing leaders and successful people in all walks of life. Most have 10 traits that, when combined, can turn dreams into reality.
1. How you think is everything. Always be positive. Think success, not failure. Beware o a negative environment.
2. Decide upon your true dreams and goals. Write down your specific goals and develop a plan to reach them.
3. Take action. Goals are nothing without action. Don't be afraid to get started. Just do it.
4. Never stop learning. Go back to school or read books. Get training and acquire skills.
5. Be persistent and work hard. Success is a marathon, not a sprint. Never give up.
6. Learn to analyze details. Get all the facts, all the input. Learn from your mistakes.
7. Focus your time and money. Don't let other people or things distract you.
8. Don't be afraid to innovate; be different. Following the hers is a sure way to mediocrity.
9. Deal and communicate with people effectively. No person is an island. Learn to understand and motivate others.
10. Be honest and dependable; take responsibility. Otherwise Nos. 1-9 won't matter.
---
14 april 2003
Do you want to hear the good news? I'm so thankful that my great work performance paid off. Being appreciated is something worth achieving.
---
17 april 2003
My best friend's wedding is set for the latter part of this year and he asked me if I could be his best man. I feel honored to be his best man. Too bad, I would have asked him first but where is the bride? Hmmm.
---
18 april 2003
My humanity is dwarfed by my quest for divinity. In this world filled with chaos and strife, there's still left for us to change from destroying our own existence when we cast away our self-righteousness and being subject to the Divine Laws of God Almighty.
---
19 april 2003
Because Of You
by Keith Martin
Spoken:
Look, why don't you play that song you played for me yesterday?
Oh ok yeah, that song because of you, cool
This is a song called because of you...written because of you...here we go

Verse 1:
...oh yah, oh yah...
If ever you wondered if you touched my soul yes you do
Since I met you I'm not the same
You bring life to everything I do
Just the way you say hello
With one touch I can't let go
Never thought I'd fall in love with you...
Chorus:
Because of you, my life has changed, thank you for the love and joy you bring
Because of you, I feel no shame, I'll tell the world it's because of you
Verse 2:
Sometimes I get lonely and all I gotta do is think of you
You captured something inside of me
You make all of my dreams come true
It's not enough that you love me for me
You reached inside and touched me eternally
I love you best explains how I feel for you...
Chorus:
Because of you, my life has changed, thank you for the love and the joy you bring
Because of you, I feel no shame, I'll tell the world it's because of you
Bridge:
The magic in your eyes
True love I can't deny
When you hold me I just lose control
I want you to know that I'm never letting go
You mean so much to me I want the world to see,
It's because of you
Chorus:
Because of you, my life has changed, thank you for the love and the joy you bring
Because of you, I feel no shame, I'll tell the world it's because of you
My life has changed thank you for the love and the joy you bring
Because of you, I feel no shame, I'll tell the world it's because of you...
Spoken:
Because of you
---
21 april 2003
I have realised that the first always have the edge over the ones who come last. Selling tickets for the Charity Walk fundraising has been a challenge for me but I believe I can sell them all before we are going to disburse the meals that we are selling. The art of selling is the best art to master.
---
22 april 2003
I woke up in the morning and read someone's thought...believing in destiny. With so much faith and willing to let go with the hope that one shall come back to heart. When I felt that thought, it was filled with sadness and restlessness. A soul in confusion, is there something left in its wholeness? I wish it to be whole when it feels the essence around it.
"We are solely responsible for our choices and we have to accept the consequences of every deed, word, and thought throughout our lifetime." - Elizabeth Kübler-Ross
26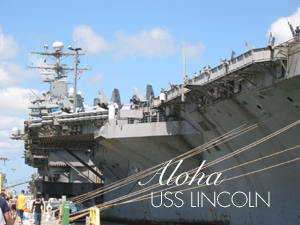 april 2003
I've checked my e-mails this morning and received word from my brother that they are approaching Pearl Harbor aboard the supercarrier Nimitz-class USS Abraham Lincoln in a matter of minutes. Everyone is happy that he is coming home and with the rest of the crew of the battlegroup after being away for ten months. My brother saw action in the liberation of Iraq (Operation Enduring Freedom) and he comes home a hero for the rest of us.
After we had our breakfast, we then take the freeway going towards Chinatown to shop and get a lei for him. My celfon rang. It's my brother. They've already docked. I hurriedly gave my phone to my mother. Mom was teary-eyed to know that her son is finally home.We're glad he is finally home and in the safe hands of the Motherland.
After the shopping in Chinatown, we then went to Pearl Harbor. And waited for his disembarkment. We got there at 1030H and saw the floating fortress, the USS Lincoln. I was amazed of this marvelous creation of a seafaring vessel made for war and peace. I've seen the wellwishers waiting for their loved ones and the young sailors coming down from the stairs and meeting their loved ones the first time in 10 months. What a sight to see. Mom was anxious to see her son. She was holding a lei.
At the nth hour, my brother was approaching us with the widest smile we've ever seen. He was finally home. Mom was crying with joy and hugged her son as my other brother, his wife, my uncle, and I looked on. I asked my brother if he came down earlier with those sailors bringing down trash. He said "No," and added "I've done that before but now I am an officer." We all laughed.
He misses the island food, so we went to the Navy Exchange for lunch and shopping. He rode with Mom and I boarded the other car together with my other brother and his wife. A family reunion in Hawaii. Dad must have been proud of his son. Our tita looked on us and she was happy of the view of the three brothers talking about each other's lives. She has three daughters. Mom has three sons.
We spent together a golden 5 hours with each other. We have a plane to catch in the late afternoon for Maui. We are so thankful to God that he is back home. My uncle took him around Honolulu after he let us off at the airport. Malama pono my dear brother...
---
27 april 2003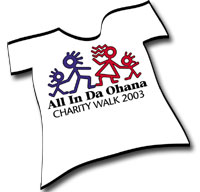 For the second time, I have won the T-shirt design contest. It feels good to be a winner. This T-shirt shall be worn on our Charity Walk 2003 by our delegation. I remembered Stitch wanting to belong to a family when he was banished to Kauai. The word for family is ohana in the Hawaiian language.
---
28 april 2003
"My will shall shape the future. Whether I fail or succeed shall be no man's doing but my own. I am the force; I can clear any obstacle before me or I can be lost in the maze. My choice; my responsibility; win or lose, only I hold the key to my destiny." -Elaine Maxwell