01 apr 2004
April Fool's Day
What an April Fool's Day surprise to find out that my truck failed to start yesterday. Thanks to my coworkers from the Bell and Valet who got me back in motion. I bought a refurbished starter from NAPA Auto Parts and had my neighbor who is a mechanic install it. This is the fourth starter to be installed and when it breaks again hopefully not in the near future, I'll get an OEM part instead.
My brother teased me to buy a new one. O well, I'm too broke to buy my Nissan Z sports car but hey, my friend Keith reminds me always that automobiles make the worst investment and instead tell me to invest in stocks and buy a second hand car.
---
02 apr 2004
Beautiful Friday
With so many things happening in my busy life, I found my way to the pet store and bought some good food for my cat and my fishes. They're happy to have sumptuous meal. I thanked them for their patience as if they could hear me.
---
03 apr 2004
Creative Photography
Today concludes my creative photography class with Carol at MCC. I really learned a lot. I wasn't able to write it in my evaluation sheet in class. Seriously, my creative eye can see better now.
---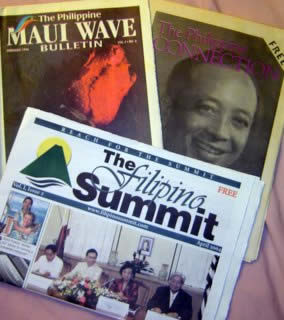 04 apr 2004
Burning the Midnight Oil
I was ready to leave from our meeting place for the newspaper staff because no one has showed up between 6pm and 615 pm. My mobile phone's battery was dead and hoping that they would receive my telepathic message that I am waiting for them. A curious cat came by to kept me company until it disappeared into the bushes. I took another round and ready to speed home until one of the staffers arrived. I told him I was ready to leave home. He got on his mobile and called the publisher and eventually arrived minutes later. We decided to work at a different location because we were uneasy about the old location. We were able to go to one of our editors' place in Wailuku and came to find out that I left my power adapter at work for my notebook PC to assemble the paper. Thank goodness, one has a Sony VAIO with the same specs. We were able to churn out pages for the newspaper. We went over past midnight and parted at 5:30 a.m. the next day. The paper was unfinished in my able hands and it was passed on to be finished before the end of the day.
Ten Years Ago
Ten years ago, I was the creative director of two Filipino community newspapers, The Philippine Connection and The Philippine Maui Wave Bulletin. I've spent sleepless nights assembling the pages by myself with the occasional help from the rest of the staff. Aside from not being paid for my work by the publishers, and health consequences, I decided to stay away from the newspaper business. Now as creative director at The Filipino Summit, a position I took in a serindipituous encounter with the publisher in front of a Filipino sari-sari store, I would say that this time is a form of correction of the failures of those publications a decade ago. The Filipino Summit meets a competition, The Fil-Am Light where a division has been formed unfortunately. I hope both papers serve their purpose and will have a longer 'shelf life.'
A Divided Nation
True as it appears, like the Philippines' 7,107 islands, scattered in mind and vision. What would make this nation bring them together in a common goal? The sorry state of the Philippines have made some of our kababayans leave and take on for themselves a different face and a different tongue and no longer call themselves FILIPINOS.
---
05 apr 2004
Life Force
The will to go forward is in the heart and soul of the staff of The Filipino Summit. We may be behind from the rest but we are able to move forward and reach a point of destination. The collaborative effort of each member has been fruitful and being a new member I have found a sanctuary in the movement. Wow, parang rebolusyon, to? This is a movement of change and in my humble capacity would serve in its ideals.
Do you remember La Solidaridad and La Independencia? In the late 19th century, a group of Yuppies (young urban professional pinoys), converged to bring solidarity and independence to the Filipino nation where colonial oppresion raged the country in that era. Today, we are held slaves in our colonial mentality. Granted self-rule in 04 July 1946, I ask this question, have we really gained independence and achieved democracy? Who defines democracy? If you are a registered voter in the Philippines, vote for someone who deserves to bring back the nation in line with the 'tigers of Asia.'
Us and Them
The new generation of Filipinos born outside the Philippines are seeking answers what sets them apart from the mainstream Filipino while the rest are busy making their skin appear fair and adopting a new tongue and forget to look back as soon as they set foot on a foreign land. I ask you please be proud of who you are and say 'I am a Filipino.'
---
06 apr 2004
Hot Off The Press
The Filipino Summit was just hot off the press when I got my hands on it. Finally, the paper is out which is a little bit late than The Fil-Am Light. We were all happy to see the finished paper with some noticeable quirks but it's okay. This will be minimized in a subsequent issue. Now these will go to the various drop-off points in Maui. I believe the TFS staff is a binding force in bringing recognition of the Filipinos as a community member in this multicultural island of Maui.
IHOP
International House of Pancakes (IHOP) in the Maui Mall is owned by the parents of Camile Velasco. I joined the rest of the staff at the resto for dinner after I delivered copies of the newspaper in two Filipino sari-sari stores. The place was packed because American Idol is being shown and when I arrived Camile was singing Elton John's Yellowbrick Road. I wasn't able to vote for her because I don't have an AT&T Wireless service on my mobile.
---
07 apr 2004
American Idol
Camile reached her end of the road literally after singing Elton John's Yellowbrick Road. The American Idol Maui hopeful burst in tears after she was axed by Simon. Let's hope that Jasmine Trias would make it further. We're proud that two 'Pinaydolls' as Eric Barsatan say it in the The Filipino Summit Entertainment section reached the finals.
---
08 apr 2004
Haircut
I had a haircut at Crystal's place near my home. Her 2-year old daughter Skye was happy to see me again. After my haircut, she showed me around their garden filled with veges and spices, and also a pond containing kois. I asked if I can get a banana plant for me to plant in our backyard. I know I have a green thumb. It was great to see a good friend again after breaking away from my busy schedule.
Imported Brownies
Late in the afternoon, I was at the music store of my friend in Wailuku discussing with her about the ad for a weekly newspaper when a Filipino family inquired about a stringed instrument she's selling. I dropped off some copies of TFS for her as well. She excused herself and entertained the kababayan customers. She politely asked them if they are Filipinos and they answered with affirmation. She talked to them in 'Filipino' and they were talking back in English with difficulties of assembling the right words to form a sentence. She handed a copy of The Filipino Summit to one of the women who appears to be a mother and in her face was a smirk and read aloud the masthead name over and over in the distinctive Pinoy accent. What a pity for a person who tries to conceal who he/she is and become someone he/she is not. I suggest an acculturation program for Filipinos who immigrate to the United States or any country outside the Philippines so they won't appear lost in translation.
---
09 apr 2004
His Death Remembered
I was meaning to watch the movie The Passion of the Christ today but I wasn't able to because of some tasks at home. I promise to watch it next week on my day off. People in the Christian world are observing the Lenten Season to commemmorate Jesus Christ's death. Without Christ in our life, we are far away from God's reach. Be reminded that we are living at the close of this age so don't forget to give God a call to have your name listed in the Book of Life.
Mooncall
A bleep on my mobile was heard. My caller ID doesn't say who. And on the other end was not telling. I didn't know it was you. But I was glad to hear you after you told me it was you.
---
10 apr 2004
Heeding the Wise
Thank you for your wisdom.
Party at Lei's
After coming home from work, I headed to the Kihei Community Center and attended Lei's daughter's first birthday. I've seen some other co-workers as well and friends in the videography industry. The place was filled with people and the food served were Hawaiian dishes like poi and kalua pork.
---
11 apr 2004
Into the Light
Today has been a blessed day because I was able to hear the wisdom of the Lord and fellowship with the brethren. I was so glad that there is an opening in my busy schedule. It is important to keep in touch with the Creator because He keeps me in check. Polly was surprised to see me this evening. I told him, 'my inner voice told me.'
Required Reading
John 3:16
---
12 apr 2004
Writing
"Good writing is like good parenting -- you have to know when to let go." – Ainsly Kirton
---
13 apr 2004
Do What You Do
1. Do what you do--and do it well--and you'll have plenty of competition.
2. Do what you do--and do it better than most--and you'll command an audience.
3. Do what you do--and do it better thatn anyone else--and you'll have the world at your doortstep.
-Bryan Peterson, Author, Learning To See Creatively
---
14 apr 2004
Thank You
Thank you for laying out the future...
---
15 apr 2004
Have You Filed Your ITR?
Yahoo! I am expecting an income tax refund!
---
16 apr 2004
Homework for the Rest of your Life
"Part of what makes writers crazy is that sense of having chosen a profession in which you have homework for the rest of your life." – Lawrence Kasdan
Sunset Photography
I was lost on my way to class because I took the wrong path. I texted my instructor and found my way back to the meeting place. It was near the grounds of the Maui Prince Hotel in Makena. I took photographs of the setting sun and some portraiture. Getting to know my Digital Rebel that well is still a feat. Understanding exposure and good composition will yield better pictures.
Written in the Sand
I wrote your name in the sand and the waves have claimed the surface. I want you to know that I love you and your presence mean so much to me.
Information Anxiety
In this information age, we are bombarded with information through the radio, TV, e-mails, text messages, and the Internet as a whole. Most people in the developed and developing countries are suffering from this dilemma. I really don't know what is going to happen in our society in these huge influx of information in our daily lives. Perhaps it is time for us to think about the eroding values in the smallest unit of institution—the family. Technology can be your friend or your enemy. We are a society of having an advanced culture brought by the promises of a messianic technology that hails to solve the problems of humanity. Blinded by this falsehood, we have forgotten the presence of a True Living God.
---
17 apr 2004
Detour Takes on a New Facelift
I have changed the face of detour. Keep on blogging!
Greeting Card
Thank you for the Easter greeting card you sent me.
Data Loss
I was saddened with the loss of my data in the WD USB2.0 external hard drive. Now I no longer trust external hard drives as a form of semi-permanent storage.
---
18 apr 2004
Your IQ score is 117! (From Tickle's Classic IQ Test)
This number is the result of a formula based on how many questions you answered correctly on Tickle's Classic IQ test. Your IQ score is scientifically accurate. During the test, you answered four different types of questions — mathematical, visual-spatial, linguistic and logical. We analyzed how you did on those questions, which reveals the way your brain uniquely works.
We also compared your answers with others who have taken the test, and according to the sorts of questions you got correct, we can tell your Intellectual Type is an Insightful Linguist.
This means you are highly intelligent and have the natural fluency of a writer and the visual and spatial strengths of an artist. Those skills contribute to your creative and expressive mind. And that's just some of what we know about you from your test results.
I Was Born An Artist?
Really? Am I an artist? Tickle prove me wrong!
---
19 apr 2004
Playdough [pending]
---
20 apr 2004
Monthsary
---
21 apr 2004
Write
"Write. Finish things." – Neil Gaiman, when asked what advice he'd give to writers
---
22 apr 2004
This is Life!
"This is not a rehearsal. This is life." – Shane Black, Screenwriting Expo 2
---
23 apr 2004
Suntok Sa Hangin
---
24 apr 2004
Swap Meet
d
Wisdom
d
Reflection
The movie
---
27 apr 2004
If You're Not The One
by Daniel Bedingfield
If you're not the one then why does my soul feel glad today?
If you're not the one then why does my hand fit yours this way?
If you are not mine then why does your heart return my call
If you are not mine would I have the strength to stand at all
I never know what the future brings
But I know you are here with me now
We'll make it through
And I hope you are the one I share my life with
I don't want to run away but I can't take it, I don't understand
If I'm not made for you then why does my heart tell me that I am?
Is there any way that I can stay in your arms?
If I don't need you then why am I crying on my bed?
If I don't need you then why does your name resound in my head?
If you're not for me then why does this distance maim my life?
If you're not for me then why do I dream of you as my wife?
I don't know why you're so far away
But I know that this much is true
We'll make it through
And I hope you are the one I share my life with
And I wish that you could be the one I die with
And I pray in you're the one I build my home with
I hope I love you all my life
I don't want to run away but I can't take it, I don't understand
If I'm not made for you then why does my heart tell me that I am
Is there any way that I can stay in your arms?
'Cause I miss you, body and soul so strong that it takes my breath away
And I breathe you into my heart and pray for the strength to stand today
'Cause I love you, whether it's wrong or right
And though I can't be with you tonight
And know my heart is by your side
I don't want to run away but I can't take it, I don't understand
If I'm not made for you then why does my heart tell me that I am
Is there any way that I
---
29 apr 2004
Purple Rain
In the light of deception in the midst of confusion or maybe am I blinded by the mere appearance of the beautiful butterfly. Admired for its beauty, the [enter later]