01 april 2005
Ulterior Motives
A love that is dependent on something - when the thing ceases, the love also ceases. But a love that is not dependent on anything never ceases. Which is a love that is dependent on something? The love of Amnon for Tamar. And one that is not dependent on anything? The love of David and Jonathan. - Ethics of the Fathers 5:16
Rex Navarrete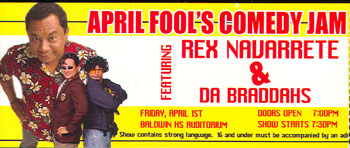 I attended Rex Navarrete's standup comedy jam at the Baldwin High School Auditorium with the other staffers of TFS. I needed an ounce of laughter today and laughter is a medicine. I also support the Filipino artists in America and of course thank you for introducing me to him in the first place. This evening was filled with laughter despite of a heavy load in my being. I have learned that laughter lightens up this load. I hope there will be more Pinoy performing artists come to Maui and show their talents to their kababayans.
---
02 april 2005
Consequences
However, I regard these things as blunders to my life irrespective of the consequences that it may bring.
---
04 april 2005
Ungrateful
I have learnt silence from the talkative, toleration from the intolerant, and kindness from the unkind; yet strange, I am ungrateful to these teachers. -Kahlil Gibran
---
08 april 2005
I Wrote
"Through joy and through sorrow, I wrote. Through hunger and through thirst, I wrote. Through good report and through ill report, I wrote. Through sunshine and through moonshine, I wrote. What I wrote it is unnecessary to say." – Edgar Allan Poe
---
13 april 2005
Pamamaalam ng Hangin
Ang siphayo ng kanyang tinig namaalam. O hanging amihan sana'y manumbalik.
---
14 april 2005
Manipulating Words
"The basic tool for the manipulation of reality is the manipulation of words. If you can control the meaning of words, you can control the people who must use the words." – Phillip K. Dick
---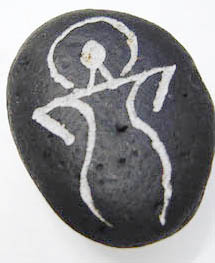 23 april 2005
A Strong Woman
A petroglyph etched on a river stone.
---
24 april 2005
Leaving on a Jet Plane
You promised me you will never change when you get to America. I will hold on to your word. We sang Leaving On A Jet Plane this evening. The moment you hang up the phone, I felt that I will never 'see ' you again. All I have left is hope. I love you. When you come to America, your outlook in life will change and may vow not to look back. It is my strong desire that you will value your Filipino heritage. I, being born in America, I have valued my culture as a Filipino. You are an individual and subject to change without notice. Good luck and God bless you! When you learn how to look back, you will see me behind you. You are welcome to America and live the American dream. I wish you well, my beloved.
---
25 april 2005
Liberating the Mind
The mind's greatest enemy are the negativity that surrounds the person. It is funny to think that people succumb to the games other people play. Maybe I have been a willing victim. In today's high tech world, there are so many mind games out there. Be careful. This world works in a manner that the mind can't comprehend. With God's guidance, the mind is liberated for the heart acts as the catalyst to discern what is best. Don't succumb to people with ulterior motives. God bless you all. It is in my best interest that you cast your cares about the world and reflect your energy on what is good for the soul. For nothing that is standing on this earth will be left when the King of Kings come to reclaim His kingdom on earth from the god of this world.