01 april 2006
Palawan-A Hidden Paradise
This is no April Fool's Day joke, I am heading to Palawan. I learned to appreciate this hidden paradise when I read about this on Maui News. Someone from Hawaii made an award-winning documentary on this beautiful place.
---
04 april 2006
Got Everything Needed
You've got everything you need—what are you waiting for? Move forward now. -Yahoo TXT
The Garden Isle
I am packing for my unexpected trip to the Garden Isle today. It is nice to see old friends again. It is disappointing to cancel all my committments to people here in the Valley Isle. I will be back on Friday evening. I hope the weather will be excellent because in the past few weeks, the island was inundated by the torrential rains. The island is lush green so it is good for my camera opps. Let's go, I am thinking of another cooking session but my friends there are already setting up dinner visits.
---
05 april 2006
Putting More Work Into Something
The more work you put into something, the better it will turn out. Don't skimp! -Yahoo TXT
---
06 april 2006
Give Things A Try
Give things a try today—results will be bettr than you think. People are ready. -Yahoo TXT
---
09 april 2006
Fly Free and Roam
"I am hoping now that I will be unemployed I will be able to do the things that I have always wanted to do." - Melody
---
10 april 2006
On A Roll
You are on a roll! Keep doing what you're doing, because it is definitely working! - Yahoo TXT
---
11 april 2006
Creativity
You'll gain great satisfaction from creating today. Whip up one of your specialties. -Yahoo TXT
---
12 april 2006
Change
If you want to make a change, do it. You can't wait for others to read your mind. -Yahoo TXT
Easter Bunny
What a day to start...someone nominated me to be an Easter Bunny sa trabaho.
---
13 april 2006
Let the World See Them
Get your ideas out--write them down, draw them up and let the world see them. - Yahoo TXT
---
15 april 2006
Dots and Crosses
Dot all your i's and cross all your t's. Everything needs to be in orderby today. - Yahoo TXT. Ano kaya ang ibig sabihin nito? IT? Information Technology? Ganun ba yun?
Easter Bunny
Guess what? A real life bunny was in our backyard this morning. My nieces and I decided to keep it. Di namin alam kung sino may-ari pero nakawala rin. Anyway. That was interesting that happened today. We're all happy today! The easter bunny came to visit.
---
16 april 2006
Easter Bunny Update
It's sad to hear that the Easter Bunny was found dead on the road. The kids found it. I was thinking about it when I woke up hoping it found its way again in our backyard.
---

17 april 2006
I joined AIGA, the professional association for design
I decided to join AIGA after a visit at Kinko's where I used to work for 7 years. This is where I was molded in my profession as an IT professional and a graphic designer. Given a choice, what would I be? Both professions make good money. I would choose the graphic designer. This was the reason why I bought a computer in the first place to learn how to do desktop publishing. I honed my IT skills from my pursuit of becoming a good designer. Thank you for your support.
---
19 april 2006
Blotches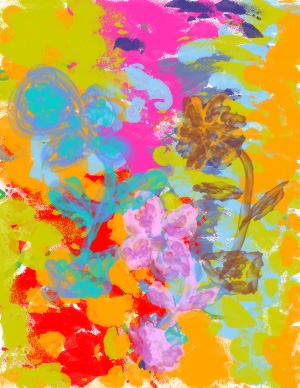 I had a chance to try out Microsoft's Expression series' Graphic Designer. The program is able to mimic a paintbrush in vector and raster mode. Thanks to my trusty Wacom graphics tablet I was able to vary the pressure for each brushstroke. I'll definitely buy this one when Microsoft releases it on the market.
I will be creating my digital paintings with this great software. All it takes is an eye for design and the passion to take imagination into the digital canvas.
---
20 april 2006
True Value
You may not know it, but you are in the thick of things. Realize your true value. - Yahoo TXT!
---
21 april 2006
Clarity
You're getting a growing understanding of your situation. Clarity is imminent. - Yahoo TXT!
Photography Tip
"Be happy! Don't imitate the news, show positive things. You don't always have to show harsh reality-photography's a way of sharing joy." - Elliott Landy
---
22 april 2006
Earth Day in Pictures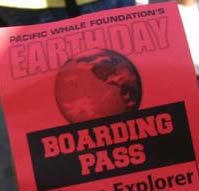 It's a day when you appreciate Mother Earth's blessings to humanity. Take care of her and she will take care of you.
---
23 april 2006
Beautiful
Isn't it beautiful to look at nature's beauty and capture it through the viewfinder?
A Road to Take
There are roads that leads to somewhere there is a sense of fulfillment. Leave everything and start all over. A single step is the start of a journey of a thousand miles. Take that road and look back from time to time.
---
24 april 2006
A Sense of Responsibility
Today you'll feel a sense of responsibility for something that's not your affair. - Yahoo TXT! Ganun ba?
---
25 april 2006
The Good In People Around Me
To stay focused on where you're going, focus on the good in the people around you. - Yahoo TXT! Oo naman!
In Flying Colours
I was excited to wear my polo shirt at work given to me by my little niece. It's made of handwoven fabric from the Southern Philippines. It's coloured green and has golden threads making it shine from afar. I've gotten nice comments about my fashion for the day. A co-worker expressed interest in having one of these clothes. Hmm, maybe it is a good business selling ethnic Filipino fashion design.
---
26 april 2006
Pull Anchor and Set Sail
The winds are strong. It is time to pull up the anchor and set sail to a new destination. - Keoni's Notebook
---
27 april 2006
Guidance
For guidance, pay more attention to the new, random ideas you've been having. - Yahoo TXT!
It's Good to be a Graphic Designer
Yes! I am a graphic designer at heart and this is my profession and motivation to excel. It's communication by design.
Design
Design is all around us. It's Everywhere. We can not get away from it. -Todd M Bertsch
---
29 april 2006
Lahaina Pali Trail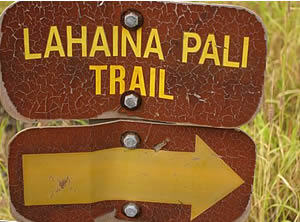 Come and let us hike up the Lahaina Pali Trail and enjoy island living. You would be glad to say, "I'm very fortunate to live here on Maui."