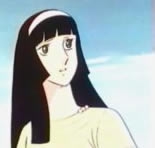 01 august 2004
Daimos Intro
IT'S a tale of two people from two different worlds. [entry pending]
---
02 august 2004
Re-learning
"Every day I'm going through the same struggles and re-learning everything I thought I knew. It's all re-learned. If you don't look at it that way, you end up doing a cheesy version of yourself. " – M. Night Shyamalan
---
03 august 2004
Metamorphosis
Watch me. I'm making a cocoon. It looks like I'm hiding, I know, but a cocoon is no escape. It's an in-between house where the change takes place. It's a big step since you can never return to caterpillar life. During the change, it'll seem to you or to anyone who might peek that nothing is happening—but the butterfly is already becoming. It just takes time. And there's something else. Once you're a butterfly, you can really love—the kind of love that makes new life. It's better than all the hugging caterpillars can do. - Hope For The Flowers
---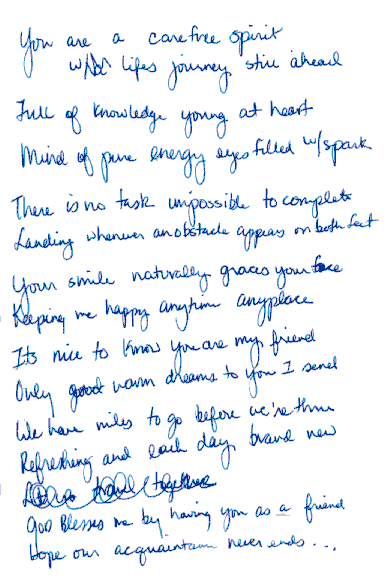 04 august 2004
Carefree Spirit
MY friend Lisa wrote this poem in 1999 for me. She wrote poems for our other friends as well. I really appreciate this from a friend and a colleague. She put smiles in people's faces when their day is gloomy. See you around my dear friend. I wish you well in your endeavors.
Destress Distress
(entry pending)
---
05 august 2004
Lending a Hand
AFTER lunch I went out and meet up with a friend to teach her how to create a website. She was very attentive to every details. She had previous learning of the subject so she just needed a refresher course. I've introduced her to blogging. This is very popular online amongst people of all ages who write what's on their mind at the moment.
We thought of the domain name to use and which webhosting services to use. She's going back to school next week in the West Coast and I hope I have contributed something that is of use to her.
---
06 august 2004
Darepdep
APAY ngata a casdiay? Nakakaskasdaao ti mapaspasamac. Ti lubong agtultuloy nga agtaytayyec ngem ti tao dina maricna ti panagtayyecna ngem madlawna daytoy gapu iti panagsinnublat ti sipnget ken lawag.
Kamalayan
Isinalin ni Pio mula sa Darepdep
Bakit kaya ganon? Nakakapanlumo ang mga nangyari. Ang mundo ay patuloy na umiikot ngunit ang tao ay di maramdaman ang pag-ikot nito. Pero napapansin nya eto dahil sa pagpapalit ng dilim at liwanag.
Art School
I was thinking of taking some art classes online.
Before Computers
"We wrote this stuff out longhand on yellow paper—that was before computers came in -- so it was such a pain to rewrite. We used to take scissors and tape and we'd make these Dead Sea Scroll-looking things. Then we would hire someone to type it." – Jeffrey Price
Daimos Finale
At last I have finished watching Daimos. I missed 6 episodes. I hope I can watch those missing episodes so I would know what happened in between. Perhaps I can guess. Would this make me a baduy when I watched a show that I missed in my childhood? Absolutely no! Try it and you will be happy when you try out what you missed as a child.
---
07 august 2004
Happy Birthday
GREETINGS to my dear brother whose birthday happens today. May you fulfill your goals and dreams. Such great talent you have will take you elsewhere. Thanks for helping me out in changing the headlight bulbs of my truck a few days ago.
---
11 august 2004
Crossing EDSA
HAPPY birthday to you! I hope all is well with you and I wish you the best in life. I remembered the time when we were crossing EDSA on our way to the movies. You told me it was your first time to cross EDSA and you were clinging to me like a little girl. Hahahahaha. Thank you for the joy you brought in my life. Be well!
---
14 august 2004
Watchamacallit
Whew! I'm blogging from my friend's house. They are watching the preseason NFL game of the LA Raiders. It's their favorite team. I'm so tired. After this blog, I'll take a nap and we will go to the car show in about 30 minutes. What is to be seen out there are cars, bikes, trucks, and bikini-clad women. Anyhow, I need to take a nap… See you at the car show!
Canned
We made at the entrance to the car show but we never went in. They have decided that it wasn't worth the $12 entrance fee. We went to the mall instead and thought of watching a movie. That also was dropped. I thought it was a fun day. The main thing I was out of my rut for a few hours. That made a difference today.
---
15 august 2004
Basingkawel
NADAGAANG ita nga aldaw ngem ti isusuknal ti angin ti nangyeg iti lamiis iti aglawlaw. Adu ti parikut nga umar-arubayan. Sapay kuma ta dagitoy ket maisakbayan iti pannakasolbarda nga kas iti unos ti kinarumsik ti tudo, adda dagiti kuton nga mangipakaammo ti idadateng ti kalamidad. Agsaganaka iti panangsangom dagitoy nga paspasamak ta kalpasan ti tudo agparang ti bullalayao nga isu ti tanda nga nalpasen ti bagyo. Umisemkan, nalawagen ti aglawlaw.
Introduction
Be polite and introduce yourself and it will introduce itself to you. —Under The Tuscan Sun
Sanctuary
The sanctuary was built before you even have come. Because I have faith you will come.
---
18 august 2004
Impossible
"I did things because I forgot they were impossible." – Shane Black, Screenwriting Expo 2
Statesmanship
After my doctor's appointment early in the evening, I went to TJ's Minimart at the Kahului Shopping Center and bought a jar of MILO chocolate drink. I noticed there was a stack of copies of The Filipino Summit. I picked one up and browsed through the pages. The paper looked good and had an organised layout. It still needs some finetuning. It is evolving in some sorts. I put back the paper on the same stack. Someone will pick it up and read it. There should be a newspaper rack for the paper so it will be prominent in the store. When I left, I noticed there was something going on at the shopping center's stage. It was Hawaii Senator Daniel Inouye's Democratic campaign. There was free food. I was feeling hungry, so I had a plate and watched what was going on at the stage. Politicians and comedians came up to the stage and gave their speeches as well as entertainers breaking the monotonies of speeches. The highlight of the event was the speech of the legendary Senator Daniel Inouye, a 45-year veteran in American politics. He passed by me where I was standing. It was amazing that I had a chance to see him. He championed the causes of the common people. He was one of the 22 senators who voted against America's preemptive strike of a sovereign nation like Iraq. As a former WWII veteran, he knew the consequences of war.
At 80, Senator Inouyer is still at his pink of health and boasting a low cholesterol level. During the Vietnam war, the youth was in rage and they went to the nation's capital and asked the question, "Aren't we old enough to vote when we are old enough to die?" This prompted the US Congress to amend the Constitution in a period of four months. Senator Inouye played his part in that historic event in US history.
He encouraged voters to vote with their conscience and asked the parents to urge their children over eighteen to register and vote. I have so much admiration of Senator Inouye as a statesman. He cited that a nation should have a sense of Aloha, Ohana, and Hooponopono. This is what I wish for the Philippines and for the Filipinos. I believe there is still hope for my native country.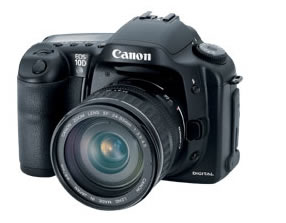 Welcome my Canon EOS 10D
After I placed my order on Monday online, the vendor told me it will take about a week to get to my hands. Unexpectedly, it arrived two days later unlike the Canon Digital Rebel which arrived like almost a week. I had to sell my Rebel because it differs from what the pros use. The 10D has many features compared to the Rebel. I have introduced myself to it and it will be introducing itself to me so we can have a symbiotic relationship. We will be going to places and I will see the world in a different light through its viewfinder.
---

21 august 2004
The Economy
For the economy to get going once again, the working man must be given his just and rightful share or his labor, and to the owners and managers must be restored the hope where there is so must uncertainty if not despair. - Benigno Aquino, Jr.
Spending One's Life As A Writer
"It is not enough merely to love literature, if one wishes to spend one's
life as a writer. It is a dangerous undertaking on the most primitive level. For, it seems to me, the act of writing with serious intent involves enormous personal risk. It entails the ongoing courage for self-discovery. It means one will walk forever on the tightrope, with each new step presenting the possibility of learning a truth about oneself that is too terrible to bear." – Harlan Ellison
The Patience of Waiting
I've stopped my at the Mile 14 marker after work to join my friend and his son fishing for ulua in Uluwalu. I was in my office clothes and wishing I have my shorts on so I can wade on the water. It was a windy late afternoon but the sea wasn't as rough. There was a sign posted BEWARE OF SHARKS. To him, there is a special relationship between man, the sea and its creatures beneath. He has a special respect to the ocean and to its creatures. He let go of the bait fishes in the bucket in the open sea. I told him they can be dinner in the evening but he replied, "Greed could fill a hungry stomach but it won't fill your soul." That was a wise reply. We waited patiently for a bite. waiting on the bell to ring and land a big fish for dinner. Time passed by, there was no bite. Everyone was patient. We enjoyed the serenity of the ocean and the day seemed to be longer than a day at the office. It takes us away from the realities of life. The bottom line is patience is a virtue.
---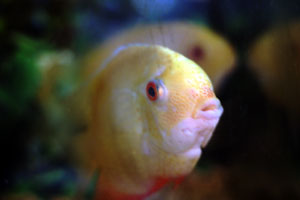 27 august 2004
Muma and Pupa
I replaced the water pump in my aquarium late this evening. I was worried about Muma and Pupa's condition along with the 3 Stoogies in the tank. The old pump died after I replaced the filter in the afternoon so I went to the pet shop and bought the pump, filters, and fish food.
---
29 august 2004
Focus [a foto gallery]
SimpleViewer is a Flash-based web app for displaying images. These images are recycled from the existing gallery section in tadhana.com just to demonstrate its capabilities. I'm so glad to find this tiny app and be able to use it on this blog. I wil be sharing images that I have captured with my camera and also some drawings I made. The Tadhana Gallery will remain as a point of interest.
---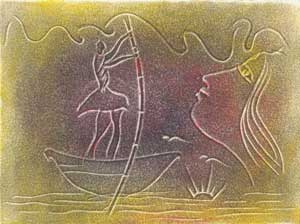 30 august 2004
The Boat Woman
I received this illustration of the boat woman as a gift. In the horizon is a setting sun. The woman in the boat appears to be heading towards the setting sun but won't reach it on time as the evening comes in. Then on the far right is a woman figurehead. I don't know what she is looking at. I guess it is what the future will bring to her. I don't know why the artist chose yellow as the dominant color. Yellow is the color of the rays of the sun but the darkness of the night is slowly engulfing the rays of the setting sun.
Playa Darigayos [a foto gallery]
This is Playa Darigayos situated along the South China Sea in Luna, La Union. The photos were taken in 2000 using my friend's Sony Mavica digital camera. Today, it looks different now as more entrepreneuring individuals set up their shacks along the beach for rent.
---
31 august 2004
Buwan ng Wika
Bilang parangal sa lahing Pilipino, gusto kong sabihin na ako ay isang Pilipino na may sariling wika. Ito ang huling araw ng buwan ng wika. Pasensya na lang di ko naumpisahan sa unang araw.
Piso Para sa Pilipinas
Ang ating bansa ay nagdarahop. Kailangan ka niya sa sakbibi ng kanyang paghihikahos!