04 dec 2003
At 0720H, PAL Flight 100 has touched down the Honolulu International Airport. Back in my island home, Maui.
---
11 dec 2003
TO THE ONE
(Message from Paulo Coelho to honour Shirin Ebadi at the Nobel Peace Prize Ceremony, Oslo,)
To the one who understood her task and her purpose.
To the one who looked at the road ahead, and understood that it was a difficult journey.
To the one who did not make light of those difficulties,
but, on the contrary, made them manifest and visible.
To the one who makes the lonely feel they are not alone,
who satisfies those who hunger and thirst for justice, who makes the oppressor feel as bad as the oppressed.
To the one who always keeps her door open,
her ears listening, her hands working, her feet walking.
To the one who embodies the verses of another Persian poet,
Hafez, when he says: Not even seven thousand years of joy are worth seven days of sadness.
To the one who is here tonight, may she be one with all of us,
may her example multiply, may she still have difficult days ahead,
so that she can do whatever she needs to do,
so that the next generations will not have to strive
for what has already been accomplished.
And may she walk slowly,
because her peace is the peace of change,
and chage, real change, always takes time.
---
13 dec 2003
Saddam Hussein has fallen to his U.S. captors.
---
14 dec 2003
A modern Filipino hero dies.
---
19 dec 2003
A dinner with Keith.
---
23 dec 2003
I attended the Chrismas dinner with the staff of Mele Ukulele and Rock Interiors.
Thanks to my good friend for being there and listening to me. Sometimes it's my turn to be heard. Hehehe.
---
24 dec 2003
a call from a friend. noche buena sa pilipinas. the phones were busy.
---
25 dec 2003
Pasko na ngayon! The gift of true friendship
Thank you to the gift of friendship to all my friends. Thank you for the well wishes and the encouragements and the wisdom from which I grow into the person I am.
The wisdom of a friend
You were right when you told me not to go back to Manila in November. Your insights were right. Thank you for always being there for me. When you give love and never loved back hurts so much.
---
26 dec 2003
The Lord of the Rings
I just got home from the movies. I watched the final episode of the Lord of the Rings' The Return of the King. The LOTR trilogy is the best movie I have watched. I have Tolkien's book when I watched the first episode. Til now I haven't read it. I'll read it when I have time perhaps. The movie is a must to watch for all of you. It's a moving movie. I encourage you to read the book also.
One funny thing was that, the seats were all full that I had to sit along the isle. My butt was hurting but hey, that was a good movie. I did what I have to do and it was worth it. I had dinner after the movie at another mall then I went home.
Mom is arriving tomorrow from her Philippine trip. We missed her on Christmas Day but my brother and I managed.
---
27 dec 2003
Your Name in Japanese. Mine is this one below.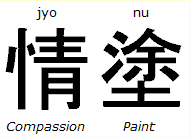 ---
30 dec 2003
Your Question Answered
Yes, I was the one who called on your cell phone on Christmas Day. I apologise if I have disturbed you. I hope all is well with you since you have already turned your gaze away from my eyes the moment I saw you.
Of Birds and Fishes
If only birds learn to fly low and see for themselves how fishes live, that they may appreciate the life of a fish where they also glide in their waterly skies.
Rizal Remembered
Well, if you're living right now Pepe, you would agonize over your country's plight. Leave your agony to the next leaders of the Republic of the Philippines. The problems are well rooted to the centuries old traditions inflicted upon the people by the prayles in which I have agreed with Tourism Secretary Gordon when he unveiled the Bagumbayan Museum in the Walled City.
---
31 dec 2003
Fini
The woman has been busy with her work and hardly hear the sound of his heartbeat, faintly feels his teardrops upon her cheeks. The wall has grown thicker and taller until she faded away from the horizon. Fini.
Con Te Partiro
Time to say goodbye.
A Small Step Towards A New Journey
Thank you 2003 for the journey of life and the people you brought along and the wisdom gained from this journey. They year 2004 is just around the corner. There will be an instance that in a few minutes 2003 is viewed from my rearview mirror. 2003, thank you for giving me a chance to be with a special friend of mine after all these years. Thank you for giving me a chance of love and there is this void again. Here is 2004 now, I'm letting you go 2003. And the moon is on its way to shine upon me on this new journey.