01 dec 2005
Habi
Hinabi ng mga pangarap ang buhay ng tao. Nakalaan sa kanyang Diyos at sa kanyang sarili kung saan sya tutungo.
---
02 dec 2005
Let's Party
Today is our Christmas party at work. Thinking of what to wear, I decided to wear my barong Tagalog. I wish my friends at work got to buy their barongs and wear it to show cultural pride. Some have expressed interest in following my fashionista idealism. I'm just glad to hear that.
The venue of the party is at the world famous Grand Wailea and Spa. Sosi di ba? I didn't go there wearing my barong. It looks weird if you see one carrying a backpack wearing a barong. Pagyurak yan ng kulturang Pinoy. Haha! I was in my sanggano outfit para di nakakatawag pansin. My friends got a room so we can crash in for the night. I got in the room and changed from a sanggano to a sangkagalanggalang. I have my camera with me so I got to take some photos at the party. The food was appetizing and we just have a simple entertainment. There were plenty door prizes. I didn't win anything. I was praying for the plane ticket to the mainland because I have a 2 night's stay in a San Francisco, CA hotel.
After the party, I got to change my clothes and got to show off my hidden talent of dancing at the hotel's Tsunami dance club. I got to dance with my friends and they got to watch me do the fancy moves never seen before on TV. Do you want to see me dance? Well, dance with me. I had so much fun this evening.
---
05 dec 2005
The Philippines--United
At the SEA Games, the Philippine nation stood together cheering their athlete countrymen to win the overall championship. Others think we cheated to win our medals. No we didn't. We won because we worked hard for it. We know that in political Olympics, there's cheating but in this sporting biennial event called the SEA Games, judges are comprised from members of the ASEAN.
I just want to say this, kaya natin ito! United in this divided archipelago by bridging our islands with information and communications technology to bring the Philippines at par to the developed countries in the world. If only our leaders left, right, center join forces to forge a symbiotic relationship and make the country move forward and have a common ideology to bridge the gap of the rich and poor. The country needs to create the middle class to sustain the economic health of the country. Do I still need to blabber? There are intellectuals out there and they know what they are doing to make this noble cause into fruition. Filipinos unite!
---
07 dec 2005
(Un)official Flickr ID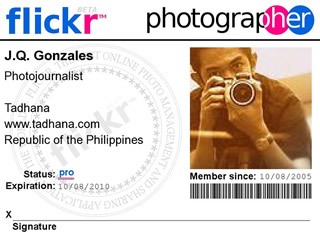 At last I have received my (un)official Flickr photographer badge. I used to own a Canon EOS Digital Rebel and it saw action in Manila. I've taken photos of urban life where poverty was massive.
Where Would I live?
I wish I someday, somehow life of the urban poor shall turn around. Growing up in the rural areas of the north, I could compare the life in the city. Where would I be if I have the choice? Can I pick suburbia? I want to be near the countryside so I can have a relaxing weekend away from the insanity in the urban jungle. I'm just glad that I am here in the beautiful island of Maui where the spirit of Aloha is reminiscent of an island culture where Hawaii is set apart from the rest of mainland America. When you are in the islands, you'll feel that you are not in America. Experience it and you will know. I did. Can I ask you? Where would you want to be when we live life together?
---
17 dec 2005
Mano Po Ninong
Kaarawan ng aking inaanak na pamangkin. Happy Birthday. Mayroon kang ice cream cake...
---
18 dec 2005
Food Feast
'Socialise over food today. Book a table at your favorite eatery and arrive hungry.' Sabi yan ng aking horoscope. Bweno, alis na ako at gutom na po ako. Punta ako ng bundok sa may golf course daw. Uwi rin ako mamayang hapon.
---
24 dec 2005
Christmas Eve
It's the time of the year when good friends are near taking time to be kind to one and all. Okay ha? Sana manatiling kind lagi ang tao para araw-araw ay laging Pasko. This is the first Christmas of my nieces here in the States. They are so happy and eager to open up their gifts.
I was outside at my kumpare's place downstairs and he mentioned that on the 24th is so cold and the skies are so clear with the stars brightly lit. It was really cold indeed and I was shivering. I was gonna get my jacket but I decided to brave the cold. I had a headache as a result. I got back upstairs and fallen asleep hoping to wake up at midnight.
---
25 dec 2005
Pasko ng Pamilya
Good morning. It's Christmas all over the world. Here's our celebration photographs.
Netflix
i just signed for a trial offer to watch DVDs from Netflix. My brother highly recommended it and I wanted to try it since I hardly go to the movies. Here's my first five selections The Aviator, Cast Away, Catch Me If You Can, Hidalgo, and Bridget Jones' Diary.