Eulogio de padre mio
A eulogy to my father. June 25, 2001. St Catherine Parish Church, Luna, La Union, Philippines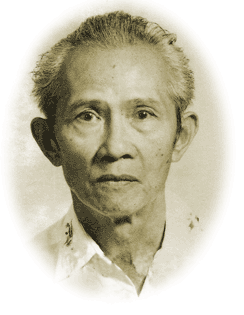 Good morning to everyone. May the blessings of the Lord be with you today as we our last tribute to our father Juan Quinto Teneza.
Apagdarikmat kas iti isisingising ken ilelennek ti init iti biag. Numanpay kasta bayat iti dagitoy nga kanito naurnong tayo dagiti padas ken subok iti panagbiag.
Ni Juan, maysa nga ama, maysa nga asawa, maysa nga gayyem, maysa nga makipag-ili ket nagbiag babaen iti anus ken regtana nga nakipulapol iti lubong nga pagdaldaliasatantayo.
Manipud iti pannakayanakna inggana iti ipupusayna, siraragsak nga nangsango iti masakbayanna. Adu ti arapaapna para iti bagina ken padana nga tao. Ket inaramidna ti panangtungpalna nga gaw-aten dagitoy babaen iti pannursuro dagiti dadakkelna, iti padasna iti biag ken kangrunaanna iti panangbayabay iti Dios kenkuana.
Tawen 1935 pinanawanna dagit dadakkelna iti Abra. Simmanglad isuna iti puerto ti Hawaii. Nagtrabaho isuna iti kaunasan kadagiti nadumaduma nga isla iti Hawaii. Anus ken kinagaget ti nagpuonanna tapno magun-odna dagiti arapaapna nga maaddaan iti urnong nga mangipundar para iti sumaruno nga panagdaliasatna.
Nadanonna ti kanito nga nangsarak ti kasimpungalanna. Apaman nga madanonna ti panagretirona iti kaunasan iti Hawaii. Maysa nga letrato ti maysa nga balasang, anak ti Luna, ti nangguyugoy ti riknanana nga mangrugi nga mangipundar iti pamilia. Inapalanna ti pannakakitana kadagiti ub-ubbing nga kibin-kibin dagiti padana nga retirado. Daytoy nga balasang nga adda iti letrato ket ni Melchora Gonzales. Naaddaanda iti tallo nga annak, ni John, Jeffrey, ken Jerry James.
Nagawidda iti Pilipinas nga sangkapamila ta ditoy da nga mangabaruanan. Pinadakkelda dagiti annakda nga nasayaat. Kanayonna nga ipalpalagip nga aggagetda ken gaw-atenda dagiti arapaapda nga awan sarday.
O, Daddy, itan ta awankan, agtultuloy latta nga agbalin nga inspirasyonmi nga annakmo, ken dagiti kaputotam. Nadanonmo nga nakita ti itatanor dagiti annakmo, pannakaipasngay dagiti appom. Kadagiti matam, makitkitac iti panagpakadam--ti sumaruno nga panagbaniagam. Nagun-odmo met laengen ti pannakakumpleto ti biagmo. Ammomi nga addaka latta nga tumartarabay kaniami. Dios ti kumuyog kenka Daddy.