01 january 2003
New Year's Day. Deep in the pages of The Alchemist, I have learned from its wisdom and this is what I believe in. King Milchizedek says to the shepherd boy Santiago: "When you want something, all the universe conspires in helping you to achieve it."
Some people make their new year's resolutions. This is a good gesture for a start. I have learned in all my life that everyone has a path that they're walking on. Through this path, we are met with disappointments and we learn lessons from it. We move on. We are inspired by the results of our disappointments so we gain the rewards of completion.
You may be far away but I reach you. The fish, unable to fly to the heavens, touched the bird's face aided by the ocean. That's how the universe works its wonders. You remain special and with all my heart, I will remain yours.
---
02 january 2003
A new leadership. Today is the inauguration of Alan Arakawa as the mayor of the County of Maui. I have attended his inauguration where attendees came by invitation only. Arakawa will lead the county in the next eight years. Hawaii Governor Linda Lingle was there and to my surprise, she still remembers me. I worked with her while she was the mayor of the County of Maui. I was glad to have the opportunity to have a Kodak moment with her. The county looks forward to the new Republican leadership in Hawai`i.
---
03 january 2003
First thing in the morning at about eight thirty, I met with two of my friends at Starbucks to have a chat. I ordered my Frapuccino™, grande, mocha flavor with whipped cream and sat outside while waiting for my barkada. The morning was chilly and I forgot to bring a jacket with me plus I was drinking a cold drink. That was not a great idea after all. People from all walks of life come to Starbucks. It has been a part of the lifestyle in the island. You meet a lot of people and see a lot of people. The taste and smell of coffee brings makes me active specially in my creative thinking process but I tell you, I'm not a coffee connoisseur. I love tea like the Brits do, have milk in my tea. The don't have this, so I go to Borders and drink chai which is served hot or cold. When the group was all accounted for, we have a lot to talk about mostly our college days. The two talked about their college days in Manila and that I missed because I left for the United States for my education. I didn't know that Manila offers the best college experience in the world to my own understanding. O well, it's not too late yet perhaps I should consider taking some art courses in the University of the Philippines or at the University of Santo Tomas. Anyway, a friend has to leave early but later I have to meet back with him for my golf lessons. I have decided to embrace the sports of golf this year.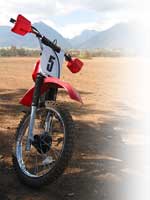 After the coffee hour at Starbucks, I joined my other friend to the dirtbike tracks at the breakwater area in Kahului. It has been a while since I rode on a motocross bike. I love this sports as well but I still have to buy a bike myself and the protective gears. We have a Yamaha dirtbike in the Philippines which I ride when I'm in town. Speed is therapy they say but I am no speedster. Don't be afraid to ride with me, okay? After an hour, we had lunch at my friend's house before I headed to the golf course where my buddy is waiting.
It's tee time, my buddy was already there waiting for me. He was with the instructor he hired to teach me. Will I be the next Tiger Woods after these lessons? The instructor was a Japanese with great patience. Learning from him was a great experience, I taught him some lessons too about fishes and the divers. I have learned to make the grip, the stance, and the swing. With constant practice, I will be able to play golf with my buddies. I just have to remember to keep my eye on the ball.
---
04 january 2003
I'm officially back to work after a five-day vacation but it's alright i had fun. I already miss work though. I'm so happy that Bettanie is alive when I checked her aquarium today. The fish isn't active inside the aquarium and that is probably she's just playing dead. [chuckles]
---
05 january 2003
'God wants us to regard prayer as talking to a dear friend who is eager and able to help you, but who at the same time, is infinitely wise and who is trying to make us see the things you pray for even as He sees them.'
---
06 january 2003
Happy birthday to my mother. My mother is the source of my joy in this world. Mom, I know what you wished for, she does exist and you will be there for us.
---
07 january 2003
Sometimes we do crazy things in our life to add spice into it. Monotony of the work-home routine deserves the detour we seldom take as an alternative to our common path.
---
08 january 2003
The sad news, Bettanie died in her watery grave. I shed a tear for her loss. Though, she's only a fish her presence was beneficial. Watching her swim gave me relief from stress. The tank is now empty awaiting for new life.
What do you think about the stock market? Investing in stocks is an art by itself. It's a tough economy these days, people are losing jobs, the prices of basic goods and services are getting higher. It's a world of dog-eat-dog. What would Darwin think about applying his thoughts on man's society?
---
30 january 2003