01 July 2004
La voix de l'oiseau
THE bird sang her tune to the fish while he was traversing the depths of the sea. Unknownst to him is a place called the sky where creatures of the air live. The bird glided through the skies noticed the fish filled with bliss in his watery world where he found life's simplicity as he grazed on the seaweeds in the great reef. The bird has the freedom to roam the vast sky but saw its emptiness. She comes to the sea and feeds on and she noticed the fish in his beautiful world where life is fascinating. The bird in her song says, "Wish I could be a fish, and be part of the fishdom, but I was born a bird. Such beauty exists in his world. I have the sky where I can see the rainbows and sunsets and they are beautiful as well. Why have I become a bird when all my life I have dreamt of being with the sea?" The bird flew towards the sunset as she looked forward on what destiny would bring. — Keoni's Notebook
On Writing
For the past two weeks, I wasn't able to write because of too much clutter in my mind. Writing requires inspiration be it an object, a song, a person, an event. I'm back in the writing bandwagon again.
---
02 July 2004
Moonstruck
The moon in her astounding beauty, as the curtain of clouds rolled off and mesmerized by her grandeur this evening.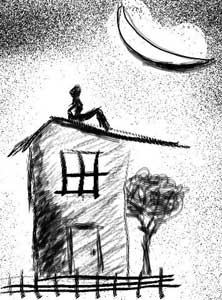 The Roof
by Keoni
On a clear night sky
Where the moon and the stars dangled up high
A young girl climbed up the roof
To talk to the moon
Dear moon, I'm a dreamer
Tell the stars to make my dreams come true
Rather than making them accrue
---
04 July 2004
Independence Day (United States)
The United States has fought for the ideals of freedom when they were oppressed by the British Crown. Their sovereignty as a nation was compromised and as a result they revolted. Like the Philippines, they had the right to defend their sovereignty and will spill their blood as patriots defending freedom.
---
05 July 2004
From the movie, Everafter
Danielle:"A bird may love a fish, signore, but where will they live?"
Leonardo da Vinci:"Then I shall have to make you wings.
---
06 July 2004
Estoppel
n. a bar or impediment (obstruction) which precludes a person from asserting a fact or a right or prevents one from denying a fact. -dictionary.law.com
---
09 July 2004
Spiderman and Destiny
I went to see the movie Spiderman 2 this evening after visiting a client. I was going to an earlier show but I didn't make it on time since I've been busy consulting with a client on the phone. It has been a hectic week for me. I have worked on the layout and design of a newspaper over the past few days and finally yesterday, it went to press. I had time in my hands, and could go out and watch a movie and enjoy the drive towards town where I could see the vast valley and the Norwegian Cruise Lines' cruise ship docked in Kahului Harbor. I visited my client first. I cancelled my doctor's appointment for a Monday visit. I proceeded to the mall and bought myself a ticket for Spiderman 2. As I approached the theater, I glanced at the Spiderman poster—DESTINY was written in all caps. Destiny is tadhana in Filipino. Sounds interesting. I could remember as child, I had a coloring book of Spiderman where he was fighting off mechanical giant clams. When the coloring book was ruined by my heavy water coloring, I decided to trace the drawings on bond paper where I could color them again and finally put them on my bedroom wall. I just only noticed now that Spiderman's costume is colored red. I colored it orange. That was funny, I just noticed now that Spiderman played a role in my childhood days and perhaps this evening I would have learned something from it perhaps a revelation.
Peter Parker is a youngster who decided to be Peter Parker himself and let go of his Spiderman alter-ego. While being Spiderman early on the movie, he had difficulties in spinning his webs as he traversed New York City's neighborhood. It's because he was not sure of who he is. There is something in his head that is bothering him. It's Mary Jane. Would he take the risk of telling her that he is Spiderman? He dreamed of being with her more than a friend but he couldn't as long as he is Spiderman. Would MJ take her as Peter Parker, Spiderman, or both? These are the questions running in his head. It took him courage to open up with his Aunt May to shed light on the demise of his Uncle Ben. Aunt May thought it was her fault but Peter stood up and revealed the truth that he kept for a long time.
Mary Jane has followed her dreams and made it to Broadway. Now her face adores the billboards on display around the metropolis and Peter can now see her everyday. Mary Jane invited him on one of her shows but he came to her as an 'empy seat.' Her heart longs for his presence for it means a lot to her because she loves him. Mary Jane was in a relationship with Daily Bugle's editor J. Jonah Jameson's son, John and they were engaged to be married. Peter has dumped his alter-ego Spiderman and tried to win back MJ. He approached MJ to reconsider. Then came the wedding, MJ thought it out with her heart. Her heart belongs to Peter. MJ invited Peter at a cafe and asked the question, "Do you love me?' He replied, "I don't." And MJ asked him to kiss her because in MJ's mind she was trying to figure out if he is Spiderman. You would notice why she asked her fiance to position his head and MJ kissing him in an awkward manner like Spidey being upside down. Then came Doc Ock to spoil the moment. Can he save MJ as Peter Parker or Spiderman? He had to make a choice and give up his dream. There is too much risk when he reveals himself as Spiderman because his enemies shall pursue her just like what the Green Goblin did in the past. He has made a choice and gave up his dream, he chose to be Spiderman. His powers came back and now that he is 'certain' who he is. He is also certain now that he gave up his dream of being with MJ, the woman of her dreams.
When MJ learned of Peter being Spiderman, without doubt she knew Spiderman is Peter. And he told MJ the dilemma of loving him. MJ was willing to risk it all for as long as she shall live. When love is all that matters. She has unmasked Spiderman—revealing the Peter who loves her most.
Peter Parker was destined to be Spiderman—with great power comes with great responsibility as his Uncle Ben told him the night before his demise.
The superhuman aspect of Spiderman is left off while his human qualities are taken into consideration in my review. The movie adaptation tried to emulate the comic book scenes just like other movies in the past so it is natural for the viewer that those feats are impossible because the brain is thinking the human factor—its vulnerabilities.
Doc Ock
Something to learn from Doc Ock. "Read to her poetry." Sofia, Dr. Octavius' beautiful wife, told Peter about how they met.
Harry Osborn
He will be back in Spiderman III to avenge his father's death. With too much hatred to Spiderman and the love for his best friend Peter, he went insane as well living in dual lives.
[This entry is subject to revision and it is pending]
---
10 July 2004
Encounters
It is surprising that my unexpected presence was a blessing to someone. I went to my lolo's house because my brother told me that he left his daughter for them to babysit. She wasn't there. [Entry pending)
---
11 July 2004
Improving One's Writing
"Employ your time in improving yourself by other men's writings so that you shall come easily by what others have labored hard for." – Socrates
---
12 July 2004
The Woman Who Flatters Him
"A man admires the woman who makes him think, but he keeps away from her. He like the woman who makes him laugh. He loves the girl who hurts him. BUT he marries the woman who flatters him." - Nellie B. Stull
---
13 July 2004
Have The Guy Say What's On His Mind
"Sometimes the hardest thing to do is be obvious, because that's not your impulse. Your impulse is to be more artful. You're trying to find a clever, elegant solution to a dramatic problem when probably the best thing to do is just have the guy say what's on his mind." – James Cameron
---
14 July 2004
Hauoli Lahanau
Wishing you a happy birthday and celebrate life with you. The great wonders of life flow through your entirety. Vibrance emanates from you that now you may find completion. Journey on Lahanau!
Yearning
"Yearning is not only a good way to go crazy but also a pretty good place to hide out from hard truth." – Jay Cocks
---
15 July 2004
Tallaoennac
ni Keoni
Umad-adayoca bayat panagbanniagata
Umar-arudoc daguiti sainnecta
Agpacpacadacan
Maminsan pay dungngo, tallaoennac
Sangoenta ti agdama
Bangonenta ti masakbayan
Tallicudanta ti napalabas
Tallaoennac.
Lumingon Ka
isinalin ni Pio mula sa tulang Tallaoennac ni Keoni
Lumalayo ka ba?
Nagbabago at lumalalim ang ating mga hikbi
Nagpapaalam ka
Minsan pa mahal ko, lumingon ka
At harapin natin ang kasalukuyan
Bangunin natin ang hinaharap
Talikuran natin ang nakaraan
Lumingon ka.
---
16 July 2004
Apay ngata a kastoy?
NAPUDOT ti aglawlaw. Inulila ti angin-amianan.
---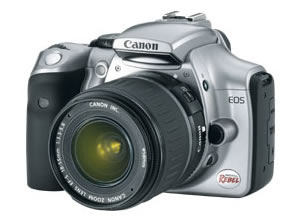 17 July 2004
My Canon EOS Digital Rebel for Sale
AFTER a few thousand images, my beloved camera which traveled with me all over is now up for sale. She became my eyes to see the beauty of things, of people and places.
She missed to capture your tantalizing eyes, and the grace of your walk and dance, and the crimson color of your lips, and that captivating smile of yours. Through the lens she could have seen your true essence; capture the colour of your dark hair, and the great contours of your body in your dazzling dress at night. She could have captured the glitter of your ring you are now wearing. The only thing she could not capture is the love emanating from your heart and soul because this will require a special lens man has not invented. Maybe one day, you would tell me but they say pictures speak louder than words.
---
18 July 2004
Jay Leno(loko)
"The Philippines announced they're withdrawing all their troops. All 51 of them. 51? P. Diddy has a bigger posse than that. "Come on, everybody in the Humvee. We're leaving." - The Tonight Show, July 13
"For the 2nd time in the past few days, a new world record has been set in the 100 meter dash. It was set by Filipino troops fleeing Iraq." - The Tonight Show, July 14
---
19 July 2004
Blood is thicker than water
It is true that blood is thicker than water. That's how I see with PGMA's decision on the fate of Mr. Angelo de la Cruz who was abducted by Iraqi rebels. I applaud her for putting the Filipino first.
---
20 July 2004
Write Short
"It's just description. I don't write very long, internal psychological dialogue in my scripts, so they tend to be very short. I'm not writing for anyone else. " – Mike Figgis
---
21 July 2004
A Sense of Camaraderie
"IT'S so exciting to feel a sense of camaraderie. Writers work alone in their room, yet this felt like a brotherhood, like we were all trying to do something positive together. " – Dana Stevens, on being on set


DID you know what Bonaparte gave to Josephine as a wedding gift? Please let me know the answer after you watched The Terminal. Viktor Navorski (played by Tom Hanks) travels to NY with a tin can on his hand. Back home in his native country, Krakozia, was in chaos. He became a person without a country until the US recognises the new regime. His passport was confiscated because his country no longer exists in the political map. The Department of Homeland Security 'detained' him in The Terminal where he can roam as a free man...and the doors to America is just several feet away. And then came Emilia Warren (played by Catherine Zeta-Jones), a flight attendant,who has great passion for History, especially on Napoleon and Josephine... What's in the tin can is 'a promise.' Watch the movie to know more.
The movie reminds me of being stuck in the NAIA II Terminal in Manila in May 2001 on my way to Cagayan de Oro.
---
22 July 2004
Outdoors
I'VE spent the rest of the day outdoors so I can enjoy the breeze. I had a lunch meeting with my friend at Pinatas after spending time at Kinko's to transfer her zip files to a CD. I've seen some familiar faces at this store where I used to work. They still remember me. That was good. They asked what I do for work. I told them, the same old stuff. I've seen how the store grew for seven years and that was a long tenure..
Future Filmmaker
I went to see my friend whom I haven't seen for a long time. He showed me the screenplay he is writing. It was not finished. It still needs about 70 more pages. We talked about his dreams, his family, and his plans about how can he make it to be a filmmaker. He introduced me to a neighbor, who is helping him edit his work. I wish him all the best. I know he will reach his goal.
---
23 July 2004
Beauty of Living
May the beauty of living bring you life's great wonders. I'm under the tree enjoying the breeze and thinking of you sending you happy thoughts to start your day. May healing takes place upon your tired and weary soul. Breathe in LIFE.
You Are Not Alone
by Michael Jackson
Another day has gone
I'm still all alone
How could this be
You're not here with me
You never said goodbye
Someone tell me why
Did you have to go
And leave my world so cold
Everyday I sit and ask myself
How did love slip away
Something whispers in my ear and says
That you are not alone
For I am here with you
Though you're far away
I am here to stay
But you are not alone
For I am here with you
Though we're far apart
You're always in my heart
But you are not alone
'Lone, 'lone
Why, 'lone
Just the other night
I thought I heard you cry
Asking me to come
And hold you in my arms
I can hear your prayers
Your burdens I will bear
But first I need your hand
Then forever can begin
Everyday I sit and ask myself
How did love slip away
Something whispers in my ear and says
That you are not alone
For I am here with you
Though you're far away
I am here to stay
For you are not alone
For I am here with you
Though we're far apart
You're always in my heart
For you are not alone
Whisper three words and I'll come runnin'
And girl you know that I'll be there
I'll be there
You are not alone
For I am here with you
Though you're far away
I am here to stay
For you are not alone
For I am here with you
Though we're far apart
You're always in my heart
For you are not alone
For I am here with you
Though you're far away
I am here to stay
For you are not alone
For I am here with you
Though we're far apart
You're always in my heart
For you are not alone...
---
24 July 2004
UFCH (Unable to Face CHange)
The United Filipino Council of Hawaii Annual Convention is being held in Maui... [entry pending]
---
25 July 2004
The Fruit
Eversince we were in the breadth of our infancy, a little seed was sown in the midst of the field of our hearts. Time passed the little seed began to sprout and tended with loving care and giving. The sprout grew with the aid of the rays of ongoing harmony and mutual understanding. When the young plant matured it bore a fruit. The fruit was endowed with seeds of love, care, understanding, forgiveness, trust, honesty, thruthfulness, loyalty, sincerity, and compassion. - Keoni's Notebook
---
31 July 2004
Photographic Memory
I'VE spent the day with a friend. [entry pending]