01 july 2005
Character
"It is not who I am underneath but the one that defines me." - Bruce Wayne
---
02 july 2005
Change
What we seriously need today is change within ourselves, a change in some of our traditionally personal- centered values, a redirection of our attitude outward, a change that starts from the individual and is directed towards the community, a change that asks especially of us in the government what we can give to, rather than what we can get from, the people." - Ferdinand Marcos
---
03 july 2005
What Do I Value?
Faith, Family, Freedom
May Six Club Member Loss
I could feel grief for the loss of my Tita Lydee's brother Eddie. He drowned yesterday in an attempt to save his son from drowning in O'ahu. May his soul rest in peace.
---
04 july 2005
Independence Day
I declare independence for Tadhana. Destiny has set a new course and if there are deserters left behind, catch up and you may still see things the best of life could offer. America is the land of the free. What is real freedom when we are enslaved by our thoughts of being free?
Bagong Lipunan
"Henceforth, let this day be known as the true liberation of the Filipino soul. And let it be celebrated as such. Let it be celebrated as a day of liberation. Let it be celebrated as a day of reawakening when at last we recognize our own weakness, our own deficiencies as our own." -Ferdinand Marcos
You Failed Me
You failed me. I should have known it long ago. Save your excuses, your actions say enough. - Keoni's Notebook
Charity
"Charity can corrupt. There is a limit to the benevolent effect of charity." - Ferdinand Marcos, Extemporaneous remarks before the officials and employees of the Insurance Commission, Malacañang, 12 January 1982
What's Left For Me?
Watching the paper bleeding my pen bone dry. Words flow, yet I am still alone, conscious but barely breathing. Watch my life pass me by. You've taken my heart for a ride; put my will to the test. All I wanted was to make you happy, but I'm dying inside. If I had to paint a picture of my mind, it would be your face against the sunlight. You are larger than life to me, and I hoped we'd share one destiny. The hardest thing I've ever tried to do was set you free. You're free, but I'm so empty. Now what have we become? What will tomorrow bring for us? Forever a part of my life, you'll always have my trust. Look what we put ourselves through. I cannot justify these tears, though I understood all of your fear. Right now, there is no turning back. Every time I try to live, with everything I have to give, something's always, always in my way. What's left for me?
You Learn
You live you learn
You love you learn
You cry you learn
You lose you learn
You bleed you learn
You scream you learn
What I Can't Compromise?
Loyalty, Faith, Perseverance
---
05 july 2005
Random Prose
by Keoni

your silence is a farewell
to the journey
where life has begun
where flowers bloomed
withered and died
and the vase
was once again empty
smiles glowing upon our faces
laughters filled the room
clasping hands
our legs stride to the music
and danced together
looked at each other's eyes
saw the promise of tomorrow
you looked away
gazed upon the sun
losing light
in your trek upon the darkness
you failed on your promises
and never looked back
farewell, move on, live life in your world
fate as we call it
you came to be as a mirage
you are a false reality
i knew it then
i didn't listen to the Man
you were part of a conspiracy
to make or break me
my world is a maze
you got me lost to be found
misguided by your charm
i didn't hear the alarm
until i found myself lost
i looked up and saw a hand reaching out
to lift me up out of this maze.
Writing
My pen is my best friend. She understands me well. Sometimes she gets confused. She runs out of ink. "Don't worry my friend, you are in good hands." Together we will make history.
---
06 july 2005
Detour listed on a podcast directory
When Apple's new version of iTunes was released recently, the podcasting site directory was added. Podcasters like me were given equal opportunity as the big guys. I have listed Radio Tadhana in there but it is still pending. I'm glad to let you know that we are listed in Podcast.net as Detour.
A week from now, I am bound for the west on a detour and will be updating this blog as well as an occasional podcast and videocast. It is a fulfillment of a dream as a child and now it is happening.
When I Get There
Will you still be there when I get there? Will you leave something behind that let me know that you were there? Will I see you at all? Will you continue to be the person who is a stranger? Will you unmask yourself and show me the real you? Will you reach out your hand and together we will walk by the bay? Will you love me now after thinking that you maybe you love me? Will you just vanish as if you never existed in my lifetime? -Keoni's Notebook
Democracy
" The barangay symbolizes our past. And what is a people except a group of men who, planting their feet solidly upon their past, their history and their tradition, and believing in their destiny, look forward to the future, making each day a great day, so that they can arrive at their destiny? You draw from the past the lessons you need, to live today and to reach out for the future." - Ferdinand Marcos, "The Moral Basis of the New Society," 23 November 1973
---
07 july 2005
A Therapy on Life's Frustrations
"I find literature and even writing therapeutic. Therapeutic, because we often find life very frustrating. Life offers many disappointments. You may not believe it, but I suffer more frustrations than most people because you see, I might work out beautiful plans only to see my friends, my closest friends, destroying them, not necessarily because they wish to do so but because of their limitations…" - Ferdinand Marcos, 1979 Cultural Center of the Philippines Literary Contest, Malacañang, 15 September 1979
---
10 july 2005
Love Token
Keep your eyes out for a little love token. Somebody wants to tell you something. - Yahoo TXT
---
13 july 2005
The Journey West
Friends and family have wished me well from all over the world for my journey to the West. It is a high time for me to do this since the signs show me this is the direction I am heading for the meantime. Is there something to be discovered about myself? Is there some cosmic conspiracy that would take place in my life?
Prayers and well wishes
Thank you from the bottom of my heart. I am in deep appreciation for the well wishes and praying with me.
---
14 july 2005
The Terminal
Do you remember the movie The Terminal? I have done my own version of it at the Kahului Airport on my way to San Francisco. I got a meal voucher like Viktor did. I think he was also on a detour. There are similarities. He came to America to pick one last autograph for his jazz musicians' collection. I am going to continental United States to find out what is there for me. Do I have a tin can, too? Perhaps a virtual tin can. What am I supposed to pick up there? Anyway, God will show me the way and the signs are everywhere.
Our plane was supposed to leave yesterday evening and arrive in the morning. Tweve hours later, I found myself in the heart of America—San Francisco, CA. I have something to discover. Perhaps a treasure or maybe to learn the beauty of life and impart it to you. I remember an acquaintance leaving the same day as me, the one who sold me my luggage. I hope she finds her utopia.
Happy Birthday
The gift. And in her eyes are filled with gladness when she received the gift from the islands. Her daughter was in a festive mood. The Islands await you. They are here on a detour. When there is something you need bad enough, the universe shall conspire to make it happen. Maktub!
Thankful
In the islands, we feel fortunate of our heritage. This separates us from the East and West. Why am I here in the West? It is more than what you think. It is not because of you. You are a part of a whole. But now, you have separated yourself from that whole and now there is a missing piece. This, I understand. May you find your treasure as well.
---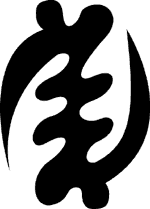 15 july 2005
Gye Nyame - "except for God"
This unique and beautiful symbol is ubiquitous in Ghana. It is by far the most popular for use in decoration, a reflection on the deeply religious character of the Ghanaian people.
May this bring you to where you are going. God is Omnipotent and Omnipresent. He is your sight beyond sight.
Jollibee
Sa wakas nakatikim na ako ng palabok after 2 years at sa Jollibee pa in California. I also had sago with ube. Ang sarap! We also were in Max on the eve of my arrival in San Francisco. Ang sarap ng pagkaing Pinoy!
Kanluran
Kumbinsido na ba ako na sa Kanluran ang aking patutunguhan? Marangyang pamumuhay? Salat ba sa yaman ang Hawaii o ang Pilipinas? Ano ang lihim ng kaunlaran? Before everything else, it is God. He is the Provider for our soul and our livelihood.
Tabo at Balde
Dito sa kanluran, di pa rin nakakalimutan ang mga Pilipinong gumamit ng tabo at balde pag naliligo. Ako ay humahanga sa mga di nakalimot ng buhay na nakagisnan sa nayon. Hindi lahat ng mga kababayan natin dito sa Kanluran ay nagbago ng kanilang pananaw sa buhay kahit nakalasap ng karangyaan. Hanga ako. Salamat at hindi lahat ng mga Pilipino ay nakalimot sa kanilang pinanggalingan. Dito sa Kanluran, dinala tayo ng tadhana, pero ang gusto ko sanang mangyari ay magkaisa tayong paunlarin ang bansang nilisan--ang bayan nating Pilipinas. Ito ang aking tanging hiling--babalik at babalik ka rin.
---
30 july 2005
Space Clearing
I am home from my detour of the West. I am in my island abode and learned a lot from my westerly journey. It is time to clear space for new things to come. I have a big package from the West that I am waiting. My fashionist tendency has been induced in the West. I will add more to this. I am going to sleep for now.