01 june 2002
Minsan isang kahapon. Nagugunita ang alaalang kaasam-asam. Ba't inilayo ang magandang kahapon? Di ba't ito'y isang pagharap sa ngayon at kinabukasan?
---
02 june 2002
'Write with your heart. Rewrite with your head.'
- William Forrester
---
03 june 2002
"The madness of the world is madness in the eyes of God." To be consistent is always to wear a tie that matches one's socks. It is to have the same opinions tomorrow as one has today.

And the movement of the planet? Where is it? So long as you do no harm to another, change your opinion once in a while. Contradict yourself without being embarrassed. This is your right. It doesn't matter what others think--because that's what they will think, in any case. So, relax. Let the universe move about. Discover the joy of surprising your self. 'God selected the crazy things on the earth so as to embarrass the wise men,' said St. Paul.
-Paulo Coelho, Author of Maktub
---
04 june 2002
The master says: "If you are traveling the road of your dreams, be committed to it. Do not leave an open door to be used as an excuse such as, 'Well, this isn't exactly what I wanted.' Therein are contained the seeds of defeat. "Walk your path. Even if your steps have to be uncertain, even if you know that you could be doing it better. If you accept your possibilities in the present, there is no doubt that you will improve in the future. But if you deny that you have limitations, you will never get rid of them. "Confront your path with courage and don't be afraid of the criticism of others. And, above all, don't allow yourself to become paralyzed by self-criticism. "God will be with you on your sleepless nights, and will dry your tears with His love. God is for the valiant."
-Paulo Coelho, Author of Maktub
---
05 june 2002
I watched Serendipity at last when my kumpad invited me in for dinner at their home. I have 'believed' in this. I don't know if I still have to keep on believing. Wherever you are, will we find ourselves back to each other? I love you.
---
06 june 2002
The Filipino is probably the most superstitious person in the world. He/she is very religious and believes in every dogma infused into his/her consciousness. What causes misfortunes? Is there logic behind these superstitions? A belief in these triggers the supernatural entities to make them happen. Even there is a God, there lies a doubt when faith has been superseded by superstition.
There are universal laws out there where logic is no longer the common denominator. I try to understand humanity. What makes us human? How can we attain divinity? In every religion, we were brought to believe what is taught by our religious leaders. As free moral agents, we were given the gift of freewill. Do you remember the tree of the knowledge of good and evil?
How do you live each day? Live a day at a time. Remember, everything that happens in your lifetime is all predetermined. Why do I say this? I don't know. It is written in the Scriptures, God knows you before you were even born, thus you have existed in a previous lifetime. Perhaps in this lifetime, you're soulmate wasn't fortunate to find you, so she lives and dies until she finds you. That's the idea of leaping from one lifetime to another. Never lose hope, life is recyclable. You'll do better in your next lifetime maybe you become a queenbee and lead a colony of worker bees and drones. At least you fulfilled your destiny to rule in your own kingdom.
---
07 june 2002
I almost ran out of gas on my way home. Thank God I was able to reach home. What a day isn't it? Since the fuel gauge is out of whack, it's hard to predict the next time to fill gas. Life is unpredictable. Surprises abound.
---
08 june 2002
When you are in the dark, remember when you light up you are no longer in the dark. Perfect for a cigarette ad. Seriously, when one is entangled with confusion, one seeks guidance. One would need someone's hand to give a sense of direction. Do you know what you really want in life? Basically, our inner selves are persons, too. When they are confused it affects our lives in the physical plane. When our physical and spiritual selves merge into one we would no longer feel the void in between these two planes. We call this completion.
---
09 june 2002
Good morning. I bring you a smile to complete your day. In the mirror I see the reflection of a bright tomorrow. Each day, I feel blessed to know how much your presence have enriched me. A presence that I don't see yet I feel. In this life, I shall live to make you live. For each word you say are rich in life. I may be alone as the eyes could see now, deep in my heart and soul your presence fills me.
I am preparing for my trip to Kauai. I find this place a place of refuge. It's a fun filled week ahead. I will be able to work with my new friends who became part of my ohana. I am very thankful to God for blessing me. The wonders of nature soothes me and the friends around me. Kauai, here I come.
Before leaving for Kauai, I went to the pet shop and looked for accessories for my aquarium project. I stayed there for a while as I waited on my friend for lunch. He would be dropping me off to the airport. I inherited a 29-gallon tank from my granduncle. I guess they didn't have the right fish in the tank and given it up. Hmmm, how about an arowana a friend opined. And if I get one, what would I name it? Maybe Lianala, it sounds Hawaiian. Once I get back home, I'll finalize my selection.
My barkada arrived and we had lunch. I have so many appointments today but I have to cancel due to this trip. I'll get back to them when I get back. I need a break there in Kauai. New sights and sounds. I've seen them all already. I stayed at my friend's house before he dropped me off at the airport. I got to rest there and play some Microsoft Xbox games. I played 007, Tony Hawk, Burnout. I loved the Burnout game because it's a car racing game. It takes you in real time racing. It would improve my driving skills and it's true. Now I can drive Manila's driveways.

My friend dropped me off at the airport. Kauai here I come. I have a connecting flight to Honolulu. I called some friends there and texted friends, too. I love my GSM phone. It rocks. Problema nga lang, walang signal sa Kauai. Aaaargh! Anyway, it took two hours of travel to Kauai. I finally arrived in Lihue and got my beat up rental car. Upgrade next time, okey! It's raining and I hardly see the road at night. My vision turned into a viewing screen of the Xbox game Burnout. Hahahaha. Pards, okey ba? Wala sa simulation yan. I almost got lost. I thought I went off course. Muntik ko ng binaliktad ang damit ko para di ako maligaw. Yan daw ang sabi ng mga damatands. Anyway, I found my destination and have a good night's sleep. Good night.
---
10 june 2002
Good morning Kauai. The weather is great today unlike last night. I hope the weather is accommodating during my tour of duty. I was greeted by the smiles of the people I work with. I feel the ohana ambiance. Today was a busy day for me as always. After work, I decided to go into the city of Lihue, a 30-minute drive off Poipu, to check my text messages. Surprisingly, I have received lotsa messages and a voicemail, too. Hmmm. It's a voice from afar, soothing and calming. It's bliss. My thumb is getting numb as I sent text messages to my friends pero enjoy naman. It's like I'm back in Manila again, the text capital of the world. A few minutes later, I went to the theater and watched Star Wars E2 Attack of the Clones. I haven't watched the classic Star Wars movies so I haven't learned to appreciate the movie. Perhaps, I'll add this in my collection. A part of the movie that made me laugh so bad was Yoda's fight scene with Count Dukoo. You see him move like lightning and all you see is the light sword (is this correct?) where in fact he moves like a snail with his cane most of the time. At least, this fed the fans' curiosity 'what if Yoda is seen fighting?' Learn from this, don't underestimate the little people. May kasabihan tayo, 'Ang munting butil ng buhangin ay nakakapuwing.' May the force be with you...but beware of the dark side of the force.
After the movie, I dropped in BK to have dinner. There's a force that pulled me to dine in and I followed. Indeed, it was a surprise. A couple of my friends are dining there and I joined them and of course nagchikahan. It was getting late so we parted ways. I went back to my place and enjoyed the night's company of the voice. Thank you.
---
11 june 2002
There's a place in Kauai called Lawai Garden. It's a Japanese garden where it is believed to be a mystical place where the Japanese early immigrants go there and meditate. I've asked where this garden is and nobody knows where it is. I read about it in Aloha Airlines inflight magazine.
---
12 june 2002
Let the Philippine flag rise in great glory as the nation celebrates its independence day. In this trying times, the Philippines has been on its feet and will be a proud example of a nation that is willing to fight for freedom. Mabuhay ang Pilipinas! Mabuhay ang sambayanang Pilipino! Ako ay Pilipino!
---
13 june 2002
It was one fine day having lunch with the great people I work with in Kauai. I called the sage and we talked stories about Maui and her adventures back home. She was on a visit to her family for a long time. I missed her so much. She called me before I left for the Garden Isle but missed me. I can't wait to see the sage again where we can just see things in a different light. Life is blessed when good friends are near (even far as long as technology breaks that barrier of distance).
---
14 june 2002
After work, I went to Lihue and went to a saimin house called Hamura's with a friend of mine. We talked stories and telling me the wonderful relationship with family. Harmonious and filled with joy.
---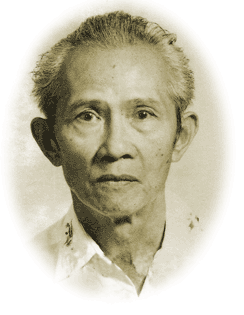 15 june 2002
Dear Dad.
I remember you with your song during a moonlit night and I still hear it at this very moment. Dad, I just want to let you know how much you have enriched my life. You're strength and perseverance in the days of your life will serve as beacon. In your last days, we were together and I never knew of your passing. I'm blessed with the life you've given me. You have lived well. I wish you are still in this plain of existence that you would meet her. She would be happy to see the father of a great son.
Daddy's Song

Apo bulan sadi ngato
Makitkitak ni San Pedro a mammallot
Ta innak San Fernando
Ta agsidaak ti adobo
---
16 june 2002
Happy Father's Day to all the fathers in the world. The greatest Father who art in heaven made the universe where we belong. We are His sons and daughters made in His likeness. To my father, you are the best a son could have for a father after our Father.
---
17 june 2002
An epistle. I think of you and the very thought of you makes me move on with my journey. Eons have passed and I don't know why the thought of you flies by. Could you be the pearls in the sea?
---
18 june 2002
What is the Other?
by Paulo Coelho, By the River Piedra I Sat Down and Wept
Man runs into an old friend who had somehow never been able to make it in life. "I should give him some money," he thinks. But instead he learns that his old friend has grown rich and is actually seeking him out to repay the debts he had run up over the years.
They go to a bar they used to frequent together, and the friend buys drinks for everyone there. When they ask him how he became so successful, he answers that until only a few days ago, he had been living the role of the "Other."
"What is the Other?" they ask.
"The Other is the one who taught me what I should be like, but not what I am. The Other believes that is is our obligation to spend our entire life thinking about how to get our hands as much money as possibe so that we will not die of hunger when we are old. So we think so much about money and our plans of acquiring it that we discover we are alive only when our days on earth are practically done. And then it's too late.
"And you? Who are you?"
"I am just like everyone else who listens to their heart: a person who is enchanted by the mystery of life. Who is open to miracles, who experiences joy and enthusiasm for what they do. It's just that the Other, afraid of disappointment, kept me from taking action."
"Bu there is suffering in life," one of the listeners said.
"And there are defeats. No one can avoid them. But it's better to lose some of the battles in the struggle for yours dreams that to be defeated without ever even knowing what you're fighting for."
"That's it?" another listener asked.
"Yes, that's it. When I learned this, I resolved to become the person I had always wanted to be. The Other stood there in the corner of my room, watching me, but I will never let the Other into myself again--even though it has already tried to frighten, warning me that it's risky not to think about the future.
"From the moment that I ousted the Other from my life, the Divine Energy began to perform its miracles.
---
19 june 2002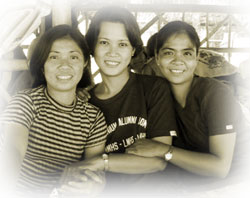 Beth (extreme right) with friends.
I've learned in the wee hours about the untimely passing of Beth, a very close friend of mine. I was trying to catch my sleep. Beth and I shared memories in my elementary school in the barrio. She is the one who taught me to excel. She is in the top of our class while I go up and down the ranks. I have worked my way up there second to her when we graduated. Every time I visit in the summer, we usually get together with our other friends and having a picnic in the beach. We talk stories about our own lives. We have a great bond of friendship.
I remember in March 1984 after we graduated, she came by to my house and she gave me a greeting card wishing me well in getting into high school and my journey in life. She left for Manila and studied there and in my 1992 summer visit, I saw her again in our class reunion. Beth was there again when Dad died last year. That's how close she is to me.
Beth, may you rest in peace. You are truly a friend. Why didn't you wait for my wedding day as you said you would come? Beth, in behalf of our friends, let me say you have lived life well. Be at peace.We love you.
---
20 june 2002
Mom and I went to Honolulu to Kaiser Clinic in Moanalua Valley for her test. I hope and pray there's nothing wrong. It was surprising to see my former boss and her son who was also a colleague at the plane and then at the clinic. She told my mother good things about me. It was like a filling for an empty manapua (siopao). Without the filling, a manapua is tasteless. That made my day. When we were working together, we are like family...and then one day came the destroyer. Harmony was disrupted and life in the community was never the same again. We were dispersed in the far reaches of the island.
Mom and I never have a chance to visit the marketplace in Chinatown. We didn't have enough time so we have to get the earliest flight back to Maui. It was a great day.
---
20 june 2002
A Greeting
Let me greet you a happy birthday. A year ago you were in limbo. A year later you have found yourself. I've learned a lot from you during my summer visit. I got drunk by your wine and I woke up in a world of great delight. Let me thank you for the moment we shared now that you have finally returned to where you were before I came. I've seen those teardrops fall upon your cheeks, when you are so willing to be a fool to fight for that love and perhaps now he would acknowledge that sincerity of your desire to have him for the rest of your life. Wish me well on my journey. Thank you again and now I am able to say 'Good bye.' [Ref. Nov 23-25, 2001]
music: somebody by depeche mode time: 2315H
---
21 june 2002
Joemy and I met for lunch at a Japanese resto in Kahului. After lunch we went to Office Max for him to buy a printer and later we went to the pet shop for my aquarium supply. I set up his printer while he set up my aquarium pump/filter. In a week, we would be filling in the aquarium with fish, the arowana.
In the evening, I met up with my friend for dinner at the Maui Marketplace. I congratulated him for getting hired in our company. God is good. Everything has its own season. We were looking for a pool table but there's nothing to be found at the sports shop. O, well, I'm beginning to like this game because it is a popular pastime activity. I want to be good at this game. My brother wants to buy one kasi. I want to learn how to rollerblade, perhaps I can be a good hockey player. Hahaha. Anyway, good night people.
---
22 june 2002

| | |
| --- | --- |
| | Clues to wisdom of living are sometimes found in candy wrappers. I just want to let you know that eating candy promotes tooth decay. What the heck! I could make my luck in one of them candy wrappers. |
---
23 june 2002
I flew to Honolulu today on a working visit. I was fortunate to fly with my friend on the same flight to and from Honolulu. I took a shuttle to Waikiki where I'll be working on my 2-day stay. The last time I was here, Waikiki was a ghost town due to the 9/11 event. It's great to be back again. Waikiki is the tourist center of the island of Oahu. It's really great here at night where you can see everyone walking in the street and also watch those sidewalk shows. I wish you are here so I can show you the beauty of Waikiki perhaps someday when the universe conspires to make it happen.
---
24 june 2002
After work, I walked two miles (about 3 km) to Ala Moana Center to meet my friend and his wife for lunch. We toured outside Waikiki visiting Sea Life Park. I love to see the dolphins, the seals, and the penguins there. We dropped by the Pali Lookout on our way to Wahiawa to meet with the relatives of my friend's wife. We left for Maui thereafter. Overall, my visit in Honolulu was exciting. My overseer was happy to see me again and wished me well in my career. Where I want to go today depends on the circumstances that surround me. Will you play a part in this? Yes, you do.
---
25 june 2002
She is beyond the open sea yet I could listen the murmur of the brook, her heart beating.
---
26 june 2002
I whisper to the wind and hear no echoes. When I hear one, it is you.
---
27 june 2002
Be of strength in your moment of weakness. You are allowed suffering to become strong. Your children are your source of strength. Your spouse have passed away but he lives on to make sure you walk along the path. Adversities in life will keep you standing up. In you is the greatness of being a mother to a child. Live on and be well!
---
27 june 2002
Beth, it's your last night. Malou texted me and she is there with you together with our other friends. I wish I could be there with you before you meet with your Creator. I offer a prayer to your family and your safe transit to the other side.
---
28 june 2002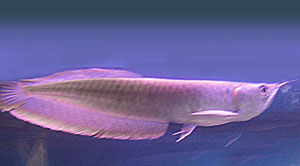 Join me in welcoming Lianala to our household. She's a real beauty as she glide in the aquarium. Lianala is a silver arowana native to the waters of the Amazon. Arowanas are surface swimmers and are known to be territorial. They can eat crickets, roaches, small fishes. I wish I could add some other fishes but they could fall prey to the arowana..
Let me personally thank Domy for helping me out in the science of the aquarium today. Now, I am an aquarist. Throughout the evening, I watched Lianala to get used to her new home. I gave her three catfishes as companions so she won't be alone. My mother and brother welcomed Lianala's presence in our home.
---
29 june 2002
I'm thinking about switching from PC platform (Windows) to the Apple's Powermac G4. The hardware requirements for my filmmaking interest is taking a toll on my PC hardware. I realized it is more expensive on the PC side. The G4 is ready for editing raw footages. Just plug in your videocam and start editing.
I have written my script for a one minute short film and it was approved by our local community TV station. Last year, I took footage of my travels to the Philippines and unfortunately my videocam was stolen at the airport. Ang sagwa 'no? Sayang kasi I was featuring the pyramid shaped chapel designed by a renowned architect sa Malaybalay City in Bukidnon.
Two nights ago, a videographer friend of mine came to my design studio for me to tutor him on Adobe Premiere on his iMac machine. I liked the new Mac OS X. It's so beautiful but it's hard for me to part ways between me and my PCs whom I named individually. I don't have a name for my future Powermac G4 yet but surely, it is of royal descent like the others. Maybe Kalantiaw, one of the ten datus of Borneo who landed in Panay.
In the year 2006 is the 100th anniversary of the first wave of Filipino migration to Hawaii. I wish to write a screenplay or maybe a stageplay depicting this historical migration of Filipinos in Hawaii to cultivate the vast sugar cane fields of Hawaii. My Dad migrated 29 years later. I want to pay tribute to the sacadas who made the Hawaii we have today.
---
30 june 2002
I just want to let you know, I'm off to sleep now. Good night.