01 June 2004
Where To?
THE eyes became watery as she bade goodbye and and the eyes followed and asked where to? The eyes looked outward and they saw the horizon the setting sun on the west. And there was the silhouette of a ship sailing away to the uncharted sea. Onboard was a woman looking upon the shore where she used to be and decided to sail on to her uncharted course in the sea of life. And the memories were left behind written in the sand and the waves washed them away.
---
02 June 2004
Remember Me This Way by Jordan Hill
From the Casper Movie Soundtrack
Every now and then
We find a special friend
Who never lets us down
Who understands it all
Reaches out each time you fall
You're the best friend that I've found
I know you can't stay
A part of you will never ever go away
Your heart will stay
* I'll make a wish for you
And hope it will come true
That life would just be kind
To such a gentle mind
If you lose your way
Think back on yesterday
Remember me this way
Remember me this way
Hmm……….. this way
I don't need eyes to see
The love you bring to me
No matter where I go
And I know that you'll be there
Forever more apart of time, you're everywhere
I'll always cares
(Repeat *)
And I'll be right behind your shoulder watching you
I'll be standing by your side and all you do
And I won't ever leave
As long as you believe
You just believe
(Repeat *)
---
03 June 2004
It's Alive
"The moment comes when a character does or says something you hadn't thought about. At that moment he's alive and you leave it to him." – Graham Greene
---
04 June 2004
Unnecessariness
"Omit needless words. Vigorous writing is concise. A sentence should contain no unnecessary words, a paragraph no unnecessary sentences, for the same reason that a drawing should have no unnecessary lines and a machine no unnecessary parts." – William Strunk, Jr.
---
05 June 2004
Starbucks and Frapuccino
AT Starbucks and an order of Frapuccino™ mocha grande with whipped cream, I met with the publisher and discussed this month's issue of The Filipino Summit. We're running late but we were more concerned about the quality. As creative director, it is my job to make sure we come up with a good looking paper and the editorial staff come up with good articles. I haven't written an article but I will make an attempt to write on the next issue perhaps an article on smartphones or maybe a column of my poems. Aside from talking on the business of newspaper, we talked on what are the possibilities of venturing beyond the newspaper business.
Janet's Wedding
IT'S the beginning of life twogether for Janet and Greg. Janet is the sister of my friend Leonard. I was one of the video team crew of my friend Billy. I was in charge of taking highlights of the wedding. The wedding took place at the garden in Maui Prince Hotel. The garden is in the center of the hotel grounds and there's a cascading waterfall and a koi pond.
When I saw the bride as she walked towards the groom, I was sent into dream state and thought of you as the bride and I as the groom. What do you think about how our wedding will be like? Would it be a wedding by the sea, inside the San Agustin Church, at the rice paddies of Banaue, or just a simple wedding in a chapel on an island with white sand overlooking the sunset.? I'm just imagining the possibilities. I just want you to know that I love you and I want to spend the rest of my life with you as my wife and my best friend.
---
06 June 2004
Happy birthday Arisa aka Jill Noelani
I was running late at my niece's birthday dinner because of a vehicular accident by the pali at the West Maui Mountains near the scenic point. I was so glad that I got there on time at the Nick's in Fairmont Kea Lani Resort. My brother Jeff and his wife Manette, and my mom are with Arisa. Arisa's an angel for us at home. She wipes out our tired and weary souls with her contagious smile. She loves to play in my bedroom where she learns the intricate inner workings of the computer. I want her to be an artist and not that geeky with finesse of a traditional modern Filipina but her parents knows best. They are good parents to Jane Nicole and Janelle Noreen. When you and I become the parents of our children, how would we bring them up? I know you will become a good mother to our children. I love you.
---
07 June 2004
Usefulness of the Arts
"The most positive notion I could come up with was what I call the canary-in-the-coal-mine theory of the arts. This theory argues that artists are useful to society because they are so sensitive. They are supersensitive. They keel over like canaries in coal mines filled with poison gas, long before more robust types realize that any danger is there." – Kurt Vonnegut, on the usefulness of the arts
---
08 June 2004
Why I Won't Have Sex With You
If you really want to know, it's because my thighs are too big. They slump across the bed, too heavy to move apart, but slightly, at the knees. Waves of cellulite lolling across seas and seas of undesired flesh. Mapped out by white webs of stretch marks, this wide expanse spills out of your grip, easily. I doubt if you would want to graze your fingers across a bedimpled, blotchy crack. I have trouble lifting my legs up for the perfect position (around your neck, perhaps, or my left knee hugged to my chest) because of this unwieldy weight, and I am so afraid to disappoint you. How your sweat drips down your brow in this great effort to get me to take my pants off. I try to distract you by sitting up, but my stomach rolls forward too fast and loose, to my dismay. I lie back down thinking, sex belongs to skinny people: the stick figures with melon boobs I know you fantasize about. I try not to bite my lip as you go down on me: I fail to keep a moan that half-arcs across this dark and sad motel room. I feel too bg for the bed, too ugly for these mirrors, unworthy of this pleasure that I feel. I want to envelope your body with mine, enclose your being, but I fear losing you. I am too thick and oily: what if you suffocate within my folded flesh? —Lilledeshan Bose; Uniberso, New Poets Calling
---
09 June 2004
I Love The Way You Love Me
by Boyzone
I like the feel of your name on my lips
And I like the sound of your sweet gentle kiss
The way that your fingers run through my hair
And how your scent lingers even when you're not there
And I like the way your eyes dance when you laugh
And how you enjoy your two-hour bath
And how you've convinced me to dance in the rain
With everyone watching like we were insane
But I love the way you love me
Strong and wild, slow and easy
Heart and soul so completely
I love the way you love me
And I like the sound of old R 'n' B
And you roll your eyes when I'm slightly off key
And I like the innocent way that you cry
At sappy old movies you've seen thousands of times
[Chorus]
(Listen to me now..)
And I could list a million things
I love to like about you
But they could all come down to one reason
I could never live without you..
[Chorus]
---
10 June 2004
Burning The Midnight Oil
I burned the midnight oil in laying out the pages of the fourth issue of The Filipino Summit. I'm so glad that I made it to the Maui News prepress department before the closed in the afternoon. Sometimes it is frustrating when there is no set systems but this will let us set the standard workflow in producing the paper. I hope that in our concerted effort we will make this endeavor a profitable enterprise and we will venture off to new things. Wish us luck and thank you for keeping my spirits high, I really need that. I really appreciate it.
---
11 June 2004
Farewell Ronnie
Life goes on as 40th US President Ronald Reagan leaves on to his next journey. I was disappointed with the Sandiganbayan's decision of not letting Mrs. Marcos attend the burial of a great friend. Ronald Reagan was a true friend to the Marcoses. Reagan has changed world history. He was instrumental in ending the Cold War with Soviet Premier Mikhail Gorbachev. He deserves to have a monument at Mount Rushmore.
Surrealism
The Oxford dictionary defines it as 'the expression of the subconscious mind.'
---
12 June 2004
Araw ng Kalayaan
Malaya ba talaga ang bayan? [entry pending]
---
13 June 2004
Miraja
Write on positivity [entry pending]
---
14 June 2004
Uncertainty
by K&K
Uncertainty for you and me
Is there a "we" in eternity?
All these dreams we weave today
Will they become reality someday…
Unfinished lyrics to a beautiful song. I will finish this one over the weekend while sipping my frapuccino since you have started the project already.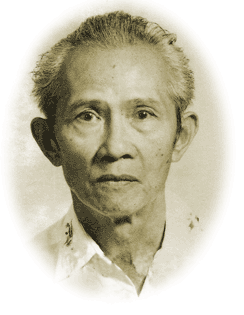 To My Father
IT has been three years since you left us Dad. I want to thank you for being a good father to us. You make us laugh when you were drunk. I know you are still waiting for her Dad. I believe that she is in this lifetime and the wait is sooner than you think and unlike you, you waited another thirty years or so. Thank you for inspiring me in life.
---
15 June 2004
The Game of Politics
[entry pending]
A Date with Mom
When a Pinoy flick comes to town, Mom and I go and watch to see the movie. The first time was when American Adobo was shown here and now it's All My Life starring Aga Muhlach and Kristine Hermosa. I think we're going tomorrow since I won't be available on Thursday because of my event photography project happening. I wish you could join us to watch the movie. I hope all is well with you.
---
16 June 2004
I'll Be Your Everything
by Tommy Page
So long that I've waited for a girl
To come into my life
And in my world
I can't explain my feelings for you
I guess you're just all my dreams come true
And I'll be your lover (Your lover)
And I'll be your best friend (Ooh, I'll be your friend)
I'll be there when you're needing me (When you need me)
I'll be your everything
You're everything
Chorus:
I'll be your everything
I'll be all that you want
And all that you need
I'll be your everything
I'll give you all that I have
My love, my life, and me
I'll be your everything
Now that we're together at last
We shouldn't think about our
Problems in the past
'Cause true love takes a miracle to find
I guess that I've been blessed
'Cause I've got you by my side
And I'll be your lover (Your lover)
And I'll be your best friend (Ooh, I'll be your friend)
I'll be there when you're needing me (When you need me)
I'll be your everything
Your everything
When you're lost and you're down
And you're seeing darkness
And there's no one there that can be found
Just turn around
I'll be there holding out my arms for you
Just reach for me
I'll be the one to set you free
I'll lift you up when you're feeling down
I'll make your whole world turn around
I'll give my heart and soul to you
To let you know this love is true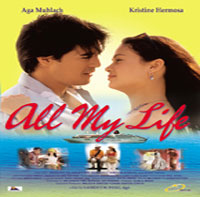 All My Life
Cast: Aga Muhlach, Kristine Hermosa, Ricky Davao, Ces Quesada, Dimples Romana, Bernard Palanca, and Angel Jacob
Synopsis: On board a luxury cruise, Sam, a handsome freelancer who is very much contented with being single, meets a distressed young lady named Luisa, who is trying to recover from the betrayal of her groom. Both travelling alone, they kept each other company until their last day on the cruise, clueless that it would change the course of their lives forever.
My Review: I watched this movie this evening with my mother here in Maui. Sana marami pang darating na Pinoy movies. The sound quality is not superb but the story is excellent. It's inspired from the Titanic movie. Sam's life doesn't rely on a schedule while Luisa's life gets down to detail like how her dreamhouse's fence be colored white. Destiny worked its way for Sam and Luisa and eventually led them to have a happy and fulfilled life together. I love this movie for I believe in Sam.
---
17 June 2004
To Ehlana
Thank you for saving my life yesterday. Like Kela, I mourn your loss and with the time you were with her you witnessed the moments in the ebbing and flowing of her tide. You leave a void in that space in her life but memories with you shall fill it. Your beauty and gracefulness as you stride in your watery world inspired her the beauty of life. The murmur of the falling waters in your pond served as the music in her ears and catapulted her into ethereal bliss. Ehlana I hope you see Lianala out there, tell her I miss her and Manu and I`a miss her, too. Your creation served a purpose…you have made a full circle.
---
22 June 2004
Happy Birthday
Happy birthday to you. A song I sing to you. You're one of God's gifts in life.
---
24 June 2004
Sail Away
The Tera Lani 2 once again. I forgot my slippahs for the beach, so I had to leave my shoes.
---
28 June 2004
Lost Transmission
WHAT happened to the signals sent to the receiver? Is it a flaw in science?
---
29 June 2004
Congratulations to HE PGMA!
The Republic of the Philippines has inaugurated its 14th President. Gloria Macapagal-Arroyo takes in a fresh six-year term. It has been a well-fought contest towards Malacanang. It's only in the Philippines where it takes more than a month to proclaim the winner of the presidential elections. The Philippine nation is all eyes to the fresh mandate of leadership of GMA who promised to leave a legacy of a glorious Philippines.