06 march 2005
Read it Twice
Don't send e-mails before reading them twice. Words are open to interpretation. -Yahoo
---
07 march 2005
Omen and Imagination
Sometimes what seems like an omen is only your imagination. So relax! -Yahoo
---
08 march 2005
Visiting the Past
It's fine to visit the past from time to time. But you don't have to live there. -Yahoo
---
09 march 2005
Pagmasdan mo ang mga bata
Nakakalungkot pagkagising sa umaga'y malamang ang mga pangarap ay naglaho. Kanino ba natin ito isisisi? Ang mga magulang nga ba o ang kapaligiran? Nakikipagdalamhati ako sa mga bikitma ng food poisoning sa Bohol. Ang pangarap na naglaho'y sana di maglalaho sa alaala ng mga nabubuhay.
Wound
A wound you thought had healed is suddenly raw again. Be patient. -Yahoo
---
10 march 2005
One fine day at Starbucks
This has been the first time of the year on seeing my friend. It was raining and I was wearing my jacket and carrying my VAIO backpack. She was waiting inside the cafe and while her husband was on the phone outside. A smile broke the monotonous surrounding while jazz music played and we just gabbed all the way while sipping our cups of coffee. I love the outdoors sometimes when I feel being confined in my room. It's nice to see people from all walks of life. Life is good!
Past Tense
Something from your past is holding you back. Let it go and move on already. -Yahoo
---
11 march 2005
Staying in Bed
You've earned a break and everybody knows it. Stay in bed if you feel like it. -Yahoo
Eastward Bound
My friend called me while I was enjoying my stay in bed in the afternoon. He asked me when will I go back to Manila. My friend wants to make his dream come true when he first set foot in the Philippines that someday he would spend some time here and enjoy the country's untouched eden.
These past few days, I've been thinking of not traveling to Manila in the summer due to my work schedule here in the island. I was hoping that everything settles down and I would be able to see things clearly.
---
12 march 2005
Preparedness
Don't use all of your resources right away. Remember, you're in this for the long haul.
What is a writer?
"A writer is a person for whom writing is more difficult than it is for other people." – Thomas Mann
---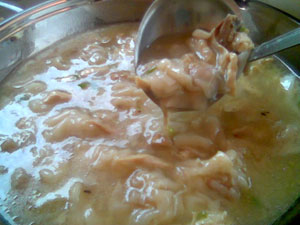 13 march 2005
Pancit Molo
Serves: 6 Servings
Ingredients:
WONTONS
* 1 pk Wonton wrapper
* 1/4 lb Pork, ground
* 1/4 c Chicken, cooked, chopped
* -fine
* 1 Egg
* 1/4 ts Pepper
* 1/3 c Water chestnuts, chopped
* -fine
* 2 tb Spring onion, minced
Instructions:
BROTH
1 tb Oil
6 Garlic cloves, minced
1/2 Onion, chopped
1/4 c Shrimp, diced
6 c Chicken broth
Mix first seven ingredients for wonton filling. Wrap in wonton wrapper. Set aside. Saute garlic, onion and shrimps in oil. Pour in broth and bring to a boil. Drop wontons into broth. Season with soy sauce and pepper. Cover and boil gently for 15 minutes.
Serving Ideas : serve with crusty bread and salad
Recipe by: Let's Cook with Nora, Nora V. Daza
---
20 march 2005
Finding Myself
"and that's why i have to go back
to so many places in the future,
there to find myself
and constantly examine myself
with no witness but the moon
and then whistle with joy,
ambling over rocks and clods of earth,
with no task but to live,
with no family but the road."
—pablo neruda
---
23 march 2005
Kamusmosan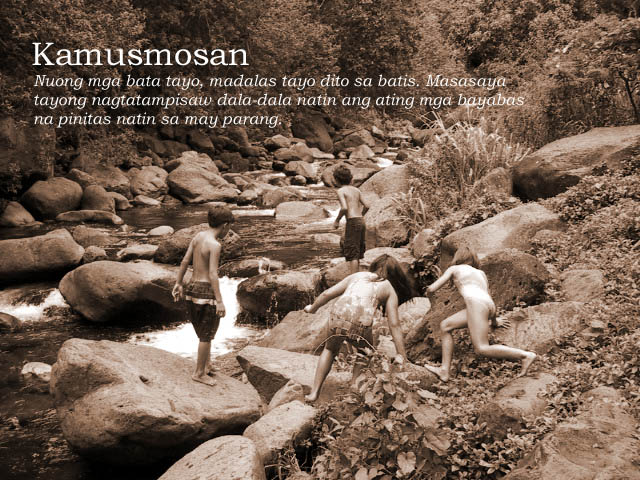 ---
26 march 2005
Katotohanan
Nakakasilaw sa paningin ang anyo ng manika. Waring isang mirahang inaakay ang nilinlang ng kanyang kaanyuhan. - Muni-muni
---
27 march 2005
Easter Sunday
Happy Easter.
A Date with Rica Peralejo