01 mar 2006
Tadhana is on Her Way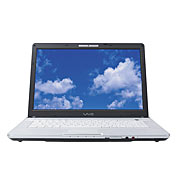 Tadhana is being built at a Sony VAIO facility somewhere in the Mainland USA. She is due to arrive on the 9th and have a higher storage capacity and more features like built-in bluetooth and built-in mic and camera.
---
02 mar 2006
Disappointed
i spent time in the garage cleaning up the space where my wide format printer will be located only to find out that the stand is an optional accessory. I thought I could print in the evening so I have scoured the web to find a vendor near Hawaii and I found one. I have to give them a call and order the part right away and hopefully get it next week so I can begin printing my photoart. I plan to go up in Kula this coming Sunday and take photos of flowers so I can make monochrome prints of my photos. I'll send a signed print to you in a mailing tube. I will post some of those photos on Detour.
---
03 mar 2006
Fulfilled
I'm so glad that I have ordered the stand for my printer today and will be able to make prints next week. I am so excited and Tita Sandy is happy to display some of my work at her store.
Bonsai
Stan, at lunchtime, talked to me about how people's lives are compared to a bonsai. Bonsai plants grow within the limits of its surroundings. I grasped what he wanted to expound and it was an inspiring thought.
Joseph
My friend Joseph gave me a call while I was away from home. He came by my house for me to look at his notebook PC. I've been criss-crossing around town running my errands after work and hoping to get home as I wished to be home early and watch a video. Surprisingly, we found each other at Walmart where I went to buy 2 quarts of oil for my truck. We talked story and we didn't notice time passed and his children were eager to go home. Anyway, we are planning to hit the driving range this Sunday since I am not ready to get a round of golf yet.
Enchanted
I plan to be up in the Enchanted Garden in Kula to take photos of flowers early on this coming Sunday. I am seeking a place of refuge and commune with nature.
---
04 mar 2006
Human Nature
What has been happening in this world? I do not understand. When we are at peace and there are elements of society who are there to break the peace. I hope and pray that one day there comes a time in our lifetime that this world will stand still and realize that they have destroyed themselves. May Peace come to end humanity's strife and suffering. May Peace in the Lord be with you all.
Technology's Curse
I wish to be back in the days when life was so simple then. Technology has been advancing in stellar proprotions and it is breaking the very foundations of society. The family. Look around you and you will see it for yourself. I may say I am a beneficiary of technology but where would it lead me? Nowhere in the end. Being content with what I have and able to share the fruits of my labour makes me happy. Sharing is caring. Technology must not be an answer to all problems because there is One above all things—Christ.
Duality
There are many thing in life that makes it worth living. One of those things are the people around us who make us live in bliss or in despair. That's what life is all about in this existence. There's duality of things. - Excerpt from a letter written August 6, 2004
Problems
"Every problem has a gift for you in its hands." -Richard Bach
Tamales y Escabeche
Acabo de llegar de la fiesta de cumpleaños de mi amigo. Mientras que cantaban el karaoke, era ocupado el comer de tamales y del escabeche y conseguido borracho. Me tentaron para cantar pero no me encendí. Total, el día fue llenado de tristeza pero la compañía de los amigos hechos mi corazón pesado aligera para arriba. - Thoughts on the birthday party of my amigo
Wedding Project
A client called me this evening to ask me to do a photoshoot of a wedding. I made a split-second decision whether to take or reject the project. I decided to take it and this will be on April 2. I haven't done any wedding photoshoot but I believe I can give my client the best bang for the buck. Weddings are sensitive subject matter so I got to give a careful thought and have a creative eye.
Be in Control
I am preparing for my transition to a photographer. I've been thinking of my book project and my joint blog project to be finished this year. Though my creative perspective has been distorted due to some synchronicity issues. I hope this will be resolved soon to avert a systemic breakdown of my creative process. Inspiration level has dwindled and needs to be revitalized to assume normal funtions. I am issuing a state of emergency to exercise my absolute control of the diminishing point of perspective. Let the Most High be in control.
---
05 mar 2006
Destabilisasyon
Bakit ninyo pinapakialaman ang isang mapayapang pagsasamahan? Wala ba kayong magawa sa buhay ninyo? Pwes, gamitin ninyo ang panahon ninyo sa tamang paraan! Di ba kayo masaya pag masaya ang kapuwa ninyo? Ipapaubaya ko na kayo sa aking Diyos at iwawasto Niya kayo. Kapayapaan!
Impulse Buying
A small impulse buy could lead to much bigger purchases down the line, so beware. -- Yahoo TXT! Okay! Late ka na e, nabili ko na yung big purchases.
Fleur de Enchante (Photography)
Let us enjoy God's gift in the form of flowers. They are the essence of beauty.
Everything there is a Season
For everything there is a season,
And a time for every matter under heaven:
A time to be born, and a time to die;
A time to plant, and a time to pluck up what is planted;
A time to kill, and a time to heal;
A time to break down, and a time to build up;
A time to weep, and a time to laugh;
A time to mourn, and a time to dance;
A time to throw away stones, and a time to gather stones together;
A time to embrace, And a time to refrain from embracing;
A time to seek, and a time to lose;
A time to keep, and a time to throw away;
A time to tear, and a time to sew;
A time to keep silence, and a time to speak;
A time to love, and a time to hate,
A time for war, and a time for peace.
Ecclesiastes 3:1-8
---
06 mar 2006
Woman and Sunset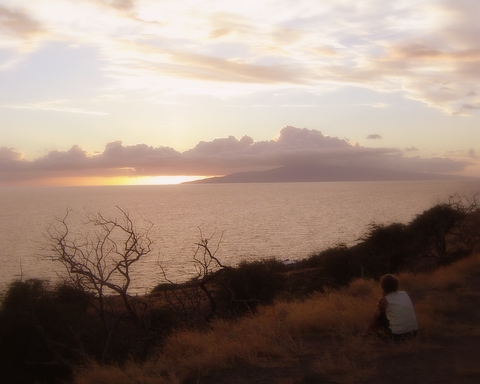 ---
08 mar 2006
Ramon Obusan's Ballet Folklorico de Filipinas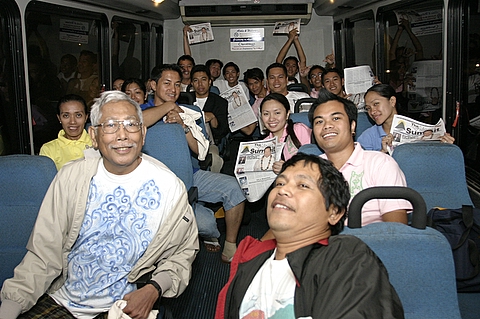 I'm delighted to meet the Philippines' great performing artists here on Maui in the person of Ramon Obusan and his dance and music ensemble. I'll be watching their performance at the MACC this Friday. The Philippines is proud to have him because of his great passion for Filipiniana. Mabuhay Ka Pinoy!
---
12 mar 2006
Wide Format Printing-Now Possible
I spent the weekend assembling my new Canon Imageprograf W7200 wide format printer with the help of my brother. It was a heavy monster but the quality and the speed are both super compared to the printer that I was using while working at Kinko's. Ripping time took hours before printing started but now I can have my prints in just a cinch.
I printed photos I took at the San Diego Zoo and I was very happy of the outcome. I have already a project in line for my new wide format printing service to my clients. Thank you for making it happen. This happened because I dreamed it.
---
18 mar 2006
Out of Town
I am going out of town this weekend just to let you know. I hope all is well with you. I am packing my photographic gear and some clothing now and then I will be off to the airport. The week was filled with great enthusiasm and anxiety as well that is why I am taking this trip to have some time off from this busy street. I guess you are busy as well and it would be a great delight to me if we can go together and enjoy a little rest and relaxation. Be well!
Ballet Folklorico de Filipinas at the Neal Blaisdell Center [Slideshow]
Ramon Obusan once again has made another standing ovation from the crowd in Honolulu, Hawaii.
---
20 mar 2006
Fleur de vive!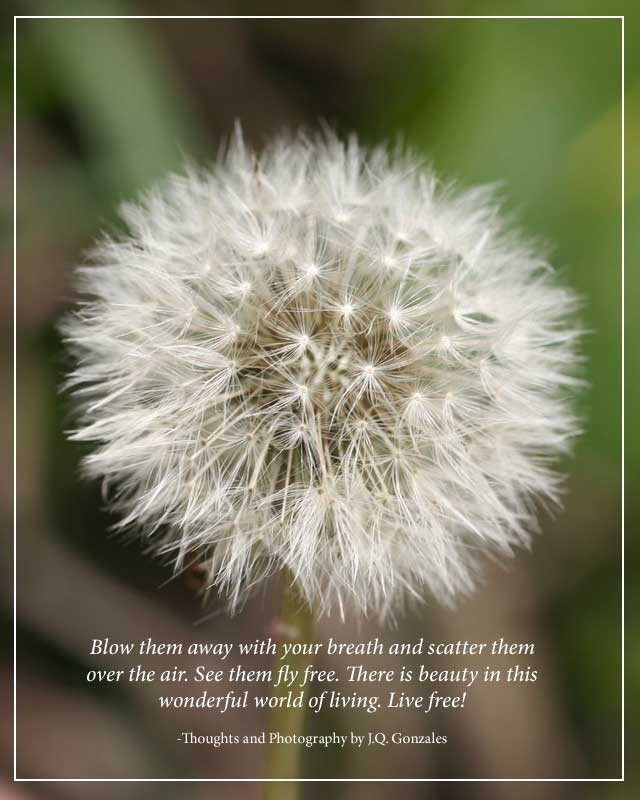 This image is available as a 20x30 poster. If you wish to buy one, please contact us at tiangge@tadhana.com.
---
21 mar 2006
Ecclesiastes 12:1-14
Remember now thy Creator in the days of thy youth, while the evil days come not, nor the years draw nigh, when thou shalt say, I have no pleasure in them; While the sun, or the light, or the moon, or the stars, be not darkened, nor the clouds return after the rain: In the day when the keepers of the house shall tremble, and the strong men shall bow themselves, and the grinders cease because they are few, and those that look out of the windows be darkened, And the doors shall be shut in the streets, when the sound of the grinding is low, and he shall rise up at the voice of the bird, and all the daughters of musick shall be brought low; Also when they shall be afraid of that which is high, and fears shall be in the way, and the almond tree shall flourish, and the grasshopper shall be a burden, and desire shall fail: because man goeth to his long home, and the mourners go about the streets: Or ever the silver cord be loosed, or the golden bowl be broken, or the pitcher be broken at the fountain, or the wheel broken at the cistern. Then shall the dust return to the earth as it was: and the spirit shall return unto God who gave it. Vanity of vanities, saith the preacher; all is vanity. And moreover, because the preacher was wise, he still taught the people knowledge; yea, he gave good heed, and sought out, and set in order many proverbs. The preacher sought to find out acceptable words: and that which was written was upright, even words of truth. The words of the wise are as goads, and as nails fastened by the masters of assemblies, which are given from one shepherd. And further, by these, my son, be admonished: of making many books there is no end; and much study is a weariness of the flesh. Let us hear the conclusion of the whole matter: Fear God, and keep his commandments: for this is the whole duty of man. For God shall bring every work into judgment, with every secret thing, whether it be good, or whether it be evil. (KJV)
---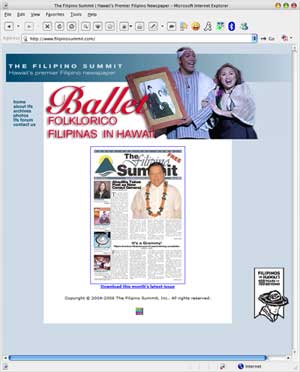 24 mar 2006
The Filipino Summit has a new skin
Yes a new skin for its website. Check it out at www.filipinosummit.com. Redesigning the website was challenging and in the past I have turned down web design projects in here and abroad due to some other projects in focus. My colleague in California is asking me to do one web design project and I will give it a shot and I hope it meets form and function. I have focused on photography and of course why would I hire a web designer when I was a web designer in the past and now I am slowly encroaching into my designer past. Seasons change and here I am an artist in full swing. Thank you for the gift of sight.
---
25 mar 2006
Soul Sisters (Photography)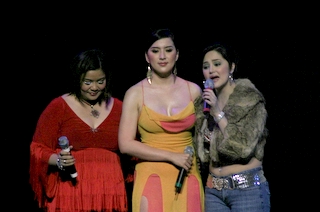 Jessa Zaragoza, Ara Mina, Marissa Sanchez live at the MACC.
---
30 mar 2006
Windows of Opportunity
You're right...I have the gift of sight.