01 May 2004
Labor Day
In the Philippines, it's Labor Day. Hail to the new heroes of the Philippines. The Overseas Filipino Workers who sends home their hard earned greenbacks to their families so they can have a comfortable life and have their children finish their education.
What the Philippines needs is a solid foundation of supporting the young entrepreneurs who with fresh ideas from college would put it to work and build the economy from the grounds up. Poverty have caused the masses to form movements for change. An empty stomach fills the heart and soul to go astray, weakening the very foundation of society—the family.
Socio-economic problems is a source of chaos in the country and perhaps a solid leadership that is not marred by graft and corruption would bring back this nation to the line of industrialised countries in Asia.
---
02 May 2004
Starbucks
I went to Starbucks at the Kaahumanu Center and 'talk story' with my friend. I had a my favorite Frapuccino™ mocha grande with whipped cream on top. I am not a coffee addict but I really love Starbucks business model. Hehehe. What am I thinking? Is there anybody who want to be a veecee?
---
03May 2004
Lenses
"Other men are lenses through which we read our own minds." —Ralph Waldo Emerson
---
04 May 2004
Telling Story
"If I could tell the story in words, I would not have to lug around a camera." —Lewis Hiene
---
05 May 2004
Exposing Ignorance
"Photography can light up darkness and expose ignorance." —Lewis Hiene
---
06 May 2004
To Those Who Remembered
Thank you to the special people who greeted me a Happy Birthday today in their own special way. I really appreciate your well wishes. A friend told me my name was heard on the radio. Unfortunately, I wasn't listening.
Babysitting
Guess what? I spent the day babysitting my niece who will be turning one next month on my birth day. Today is also the birthday of my niece who was named after me. She is in the Philippines right now and I hope and pray that she and her older sister is coming to join their parents. I miss those kids.
Dinner
Usually, my family hosts a small party for my birthday but this year it is a family affair. We had our dinner at Dragon Dragon, a Chinese resto. This could have been a great moment for you to meet my family. I just want to let you know that I love you and thank you for your well wishes.
---
07 May 2004
I Sold My Computer
Finally, I have parted with my desktop computer of six years. She has served me well and I really appreciate the moments we shared because she was always there for me and every command I made, she has executed it well. May you serve your new owners, Lakambini.
Lakambini will be reincarnated as a 64-bit computing platform before year ends.
---
08 May 2004
Miss Maui Filipina 2004
When I got home from work, I received a call from my friend and asked me if I could attend the Miss Maui Filipina 2004 beauty pageant at the Baldwin High School theater and cover the event. I took my photographic gear and went to the pageant and meet with my friend. We have front row seats so it is excellent for me to get photos of the event. My Canon Digital Rebel did a fine job in capturing over 200 digital images. I met some old friends in the media where we exchanged stories.
There were five beuatiful and talented contestants and I loved listening to their speeches about the Filipina being a role model in the community inspiring me to choose a beautiful Filipina to spend the rest of my life with.
---
09 May 2004
Happy Mother's Day
To all mothers. Thank you for bringing us forth your children into the world and live life.
The Philippine Elections
More than forty million voters casted their votes in the national elections in the Philippines. As tradition goes, the electoral process is tainted with massive vote buying, ballot snatching, and election related violence. The world watches the Philippines as to who will be elected president of the Philippines.
In 2001, I volunteered to help out in the elections and joined NAMFREL or the National Movement for Free Elections in our town while I was on vacation. It was quite peaceful compared to this election.
I really don't understand why there's so much violence in the election process. A lot of lives are wasted as a result. Why can't they exercise restraint and civility? I also don't understand why the modernization of the election process has been shelved where the government has spent millions of pesos to minimize election fraud. Hopefully in the next election the COMELEC implements the shelved project after cleaning up the mess in the procurement process.
---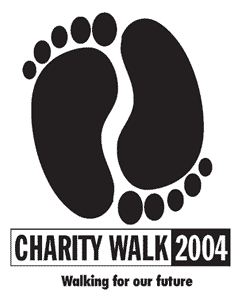 10 May 2004
T-Shirt Contest
I was so anxious to know who won in the Charity Walk T-shirt Design Contest and with great delight, I won again for the third time.
Suprised Birthday Party
Today was full of suprises. Friends and coworkers at the resort surprised me as I entered my office. The room was dark and then I saw a big flash of light and heard people singing the Happy Birthday song. I really appreciate their thoughtfulness. Thank you guys!
---
11 May 2004
Opportunity
"The Chinese use two brush strokes to write the word 'crisis.' One brush stroke stands for danger; the other for opportunity. In a crisis, be aware of the danger - but recognize the opportunity."
---
12 May 2004
Easy Sailing
"There is no thrill in easy sailing - when the skies are clear and blue, there is no joy in merely doing things which anyone can do. But there is some satisfaction that is mighty sweet to take, when you reach a destination that others thought you would never make." —Spirella
---
13 May 2004
Outlook Class
I attended Basic MS Outlook 2000 Class at the resort where I learned some neat features of this PIM application. I use Outlook extensively on daily basis to manage my e-mail, calendar, address book, and tasks and synchronise all the info into my Microsoft powered smartphone.
---
15 May 2004
Charity Walk
This was my first time to join the Charity Walk organized by the Hotel Association of Maui to raise funds for charity. It was a cloudy morning with occasional rainshowers. A beautiful rainbow greeted the walkers bringing sweet smiles. I brought my camera and took photos of the event. I had fun walking and talking stories with the other walkers and some posed for the camera. Sadly, I wasn't able to finish the walk because I took a ride towards the Wailuku soccer field where the walk started. I was getting tired. I didn't have breakfast and I didn't have enough sleep as well.
Van Helsing
After the Charity Walk, I went to the mall and watched Van Helsing. It's a good movie with good special effects. The Frankenstein monster is one of my favorite characters because he was a creation from an evil mind but he had a good heart. He was sought upon by Count Dracula to bring life to his seeds and wreak havoc to humanity. Van Helsing on the other hand was set to vanquish Dracula and he triumphed. When the movie was over, I went home and slept from 2:30 p.m. until 1230 a.m the next day.
---
16 May 2004
The Instrument is not the Camera
If the photographer is interested in the people in front of his lens, and if he is compassionate, it's already a lot. The instrument is not the camera but the photographer. —Eve Arnold
---
17 May 2004
Rejection and Acceptance
"You have to know how to accept rejection and reject acceptance." – Ray Bradbury
---
21 May 2004
A Touch
Words have resonance and give the essence of touch.
The First Time I Loved Forever
by Melanie Safka
The first time I loved forever
Was when you whispered my name
And I knew at once you loved me
For the me of who I am
The first time I loved forever
I cast all else aside
And I bid my heart to follow
Be there no more need to hide
And if wishes and dreams are merely for children
And if love's a tale for fools
I'll live the dream with you
For all my life and forever
There's a truth I'll always know
When my world divides and shatters
Your love is where I'll go
---
22 May 2004
Old School
I watched the movie Old School in the evening. It's very hilarious. It reminded me of my frat days in college. It wasn't exactly like that at all. I just wished.
---
23 May 2004
School of Rock
I watched the movie School of Rock as soon as I got home from work. Jack Black performed well in this movie where I saw hime before in the movie High Fidelity with John Cusack. It totally rocks! I don't really listen to rock but what I've learned from this movie is that rockers are artists, too. Some people try to be someone and not feel happy about themselves. The bottom line is be yourself!
---
24 May 2004
Coincidences
There are things that happen in our lives that is surprising to us and gives us a smile in our face. I was thinking about a friend of mine when I was outside Lahaina and had a serendipitous encounter. One of my life mentors just appeared with her companions. We talked story and we talked about a friend of ours who once mentored us all and is appearing to be lost. I could just remember those days when we were all good friends. I hope that I can see him again and hope to bring him back into the path in which he was.
Required Reading
The Celestine Prophecy by James Redfield.
You have never read a book like this before...a book that comes along once in a lifetime to change lives forever. The Celestine Prophecy contains secrets that are currently changing our world. Drawing on the ancient Peruvian manuscript, it tells you how to make connections between the events happening in your own life right now...and let's you see what is going to happen to you in the years to come!
---
25 May 2004
The Leaf
I remembered a leaf yesterday clinged to my sideview mirror on my way home. Is there any significance? Should I kept it? I had so many encounters with leaves that cling to my sideview mirror or windshield. But in the Scriptures, leaves were of great significance like the olive branch or the leaves of the fig tree.
At First Sight
At the very sight of dawn was the awakening of the roosters crowing to welcome the beginning of day. And in that moment, the sun casts a shadow of the objects that it comes against with. What could one gain from this encounter? It's a new day.
---
26 May 2004
Gift
Thank you.
---
27 May 2004
Precious
The preciousness of your love supersedes how much life has given me.
Double Celebration
At Dragon Dragon. The Ring. The One.
---
28 May 2004
Bukanegan
local pinoy born
---
31 May 2004
Talking To The Tree
And then came one afternoon where I sat under the tree and asked a question... [pending]