01 may 2005
Labor Day
Four years ago, Malacanang has almost fallen into the hands of the people. Were the people dissatisfied of their leaders' way of running the government or were these people influenced to rebel against the establishment in exchange for food for the day? People who live in poverty are easily misled by the makamakas of Philippine society just to fulfill their greed for power and wealth. Instead of playing with the minds of the poor, why not share the wealth and knowledge to the small people and help build a nation to peace and prosperity. Do this for the labor of love.
---
02 may 2005
Friendship
There's a miracle of friendship that
dwells within the heart
And you don't know how it happens
or where it gets its start
But the happiness it brings you
always gives a special lift
Any you realize that friendship
Is God's most perfect gift.
-Anonymous
---
03 may 2005
Ambition
"If you can imagine it,
You can achieve it.
If you can dream it,
You can become it."
-William Arthur Ward
---
04 may 2005
That Makes the Two of Us
"The entire sum of existence is the magic of being needed by just one other person."
-Vi Putnam
Latest Coke Jingle (Manila)
Sana'y masabi
sa awit kong ito
Lahat ng ninanais
nitong puso ko
Sana saan man
patungo sa buhay
May pag-ibig, may pag-asa
may saya at saysay
Sana sa bawat sandali
matikman pa
Sarap ng pagsasama
at simpleng ligaya
Tara na sakyan lang
malay mo
Andyan lang, andyan lang (ati)
ang hinahanap mo
---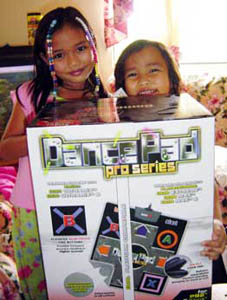 05 may 2005
My Gift
I went to the mall and bought myself a gift for myself and my nieces, Jane Nicole and Janelle Noreen—a dancepad and the Dance Dance Revolution gamedisc for my XBOX game console. Actually, it's for them but I could use it once in a while so I can reestablish myself with the lost dance moves I had when I used to own a bigspace on the dance floor in clubs. I don't go clubbing here, since all my friends here no longer know what a dancefloor looks like.
My nieces helped me assemble the gamepad and then I connected it to my game console and then I tried dancing on the pad and my nieces were at awe with my moves. You have to visit one of these days so you could compete with me. When it was the turn of my nieces, I was in awe, also. They beat me!
---

06 may 2005
The Journey Forward
Today is my birthday. Ask me how old I am when you see me, okay? [Chuckles] I want to thank my friends who called to greet me a happy birthday and to those who sent their well wishes through my phone, my email, my postal mail. I am elated by your loving gesture and you inspire me in life and let me thank you for considering me as your friend in your life's journey. Thank you so much. In my times of weakness, you are there to give me support and inspiration. In my times of triumph, you are there to applaud me in reaching a difficult feat. Thank you.
I am so happy that God has given the gift of friends. They are there in my life's ups and downs. That is why I am blessed with their presence. It's a symbiotic coexistence. You may have everything in life but possess no friends, life is nothing. Life is sharing the best of yourself and being able to impart in your friends the value of your trueness and unconditional love—loving without any ulterior motives.
I am thankful God gave me life—to serve my purpose from the day He created me. I've been given the talents to put to use to benefit humanity. Who am I to turn down the great commission to serve my life's purpose? Without Him, I am nothing. I am taking this journey forward to serve my purpose in life.
Birthday Celebrant
I was happy to be at work today because my colleagues remembered me on my birthday. I received leis, some food, ice cream, sushi, cake with a cherry topping. It feels good to be appreciated. That makes me worthy of my existence.
The Luau
My brother and his family came with me to the luau in celebrating my birthday and my niece Noreen. We have the same birthday, by the way. Do we think alike? She's a very creative young girl. She's very funny with her innocent jokes. I am not sure if I have humored you at one time, but I don't see myself cracking jokes but I noticed from you that you laught at what I say sometimes. Mom wasn't able to come with us. I think she forgot to greet me a happy birthday like other friends I know. Perhaps in their thoughts they remembered. Mom went to the wake of her kumadre who is my ninang. I didn't know.
I've been here to the luau at the Royal Lahaina Resort a lot of times. My companions enjoyed the show and they were amazed at the hula dancers as the men and women gyrate their hips to the Polynesian music. What is amazing, too was the firedance performance.
After the show, the performers came to bid aloha to us visitors. We had a photo opp with some of the performers. This young woman resembled someone I knew. Her eyes, her height, her lips and when I thanked her and she responded with the voice so familiar. Could it be her? I took another glance of the photo, she's wearing a flower on her left ear.
That cosmic moment entails that we are soul travelers and when the moment requires the presence of someone we care about a semblance appears in our sight. I call this a 'mirage.' Anyway, what is important, I have spent my time with that someone and in this world of matter—oil and water can't mix. Perhaps the alchemist can blend those two together to make them soluble to each other. It is a challenge of science.
---
07 may 2005
Death and Life
If I have died today from the smoke that engulfed our house while I was sleeping in the morning, what would you do? The alarm woke me up and spared the house as well. It was only smoke at the stove coming out from the pot my brother is heating. The fumes could have been deadly if it wasn't put to a stop. I would be singing my Aloha Oe. I want you to know that I love you, and deep in my heart is you. For without you, life has no meaning. It is this very essence that our lives came into congruence.
Kiss
The decision to kiss for the first time is the most crucial in any love story. It changes the relationship of two people much more strongly than even the final surrender; because this kiss already has within it that surrender. -Emil Ludwig
Miss Maui Filipina 2005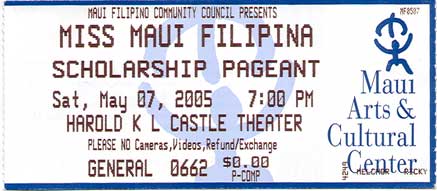 I was late at the pageant and the worst of all I forgot my wallet. The parking lot was full for the MMF Pageant and there's also a reggae concert going on. There's also a designated parking for them. I went there and it was embarassing to say I forgot my wallet but I did. I was ready to turn around and go home but by a shear strike of luck, the parking attendant let me in. I called my buddies who got me the ticket to get in. I was glad that I was able to get in. I got my photographic gear but the tickets said, NO CAMERAS! I am a photojournalist for crying out loud! I checked my gear, by flash batteries are discharged! Aaargh! The good thing is, I have mastered the art of stillness...I can take photos without flash in a dimly lit ambiance. This is where I get the artsy look of a photograph capturing the best of the moment. I got my binos and was able to see who's who in the crowd and able to see clearly the beautiful maidens vying for the MMF title. I've been thinking, the Filipina woman is beautiful. Of course , this is from an artist's point of view. All women are beautiful.
Ale House Bar
No wallet. No ID. No entry. Well, I was stopped by the bouncer. I told him my age. I guess, in his eyes I'm under 21. He let me pass and joined up with my friends. He asked me make an oath. Not to order alcohol. Hahahaha. I guess forgetting the wallet saved me from leaving this existence. It's an act of the Divine Hand that wrote this.
Come What May
Patti Labelle
Hold me in your heart
We could love so free
And no, we'd never part
But I'm not a child
And wishes are
Just child's play, my love
Now I'll never be afraid
Of who I am
And who I'm not
Come what may
Wish I was a bird
I'd warm you in my wings
Safe from all the storms
You know true love can bring
But I'm not a bird
And wishes can
Just fly away, my love
And I'll never be afraid
Of who I am
And who I'm not
Come what may
Oh, I'm no fool
Shining in your eyes
Of the stars, my love
No, we'll never be afraid
Of who we are
And who we're not
Come what may
Of who we are
And who we're not
Come what may
Wish I was your child
Wish I was a bird
Wish I was a child
---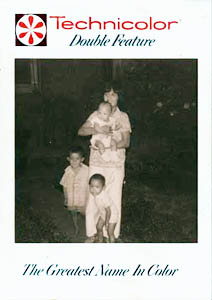 08 may 2005
Dakila Ka Inay
Mula ng isilang at magkamalay, ikaw ang aking gabay sa landas ng aking buhay. Salamat po at isinilang nyo kaming inyong mga anak. Kung wala po kayo ay hindi po sana namin makikilala ang taong ipinanganak din ng kanilang ina na nakalaan para sa amin. Buti po yung dalawa may tangay na silang mga inakay at inahin. Nanay, naipanganak na nga ba sya? Nasaan ba siya? Nasa dakong hilaga, kanluran, timog, o silangan?
Sana kung sino po ang pipiliin ko ay bigyan nyo siya ng respeto at pagmamahal. Dahil kung sino man siya, siya ang itinadhana para sa akin. At walang makakapaghiwalay sa amin kundi lang kamatayan.
Kung andito po kayo Itay, masisiyahan po kayo at magiging kumpleto na ang pamilya natin. Alam kong mahal ninyo si Inay. Hanggang sa kamatayan, ikaw'y naghintay. Araw ng Ina po ngayon. Salamat din po sa inyo, kung wala din po kayo wala din po kami.
Survey
YES or NO? Please answer.
---
13 may 2005
Podcasting
What is podcasting? Podcasting puts the listener in control allowing them to tune in when they want, where they want. I used to be a cyberDJ, and discovered podcasting before it was born. It's funny, I started to have a fan base of my radio show and emails were coming in for their song requests. Right now, podcasting is becoming a fad and I'm getting back to it again. Tadhana will have a podcast section soon. I've been a guest dj in one of the radio stations here and I was glad that listeners appreciate my presence on the air. In 1997, I went to Manila and tried my luck to be in radio broadcasting but I didn't make it because my family called me back to the States.
Podcasting is fun. Try it out with the Podcasting Startup Kit. Be heard and be your own star of your podcasting show.
---
14 may 2005
Serenity at work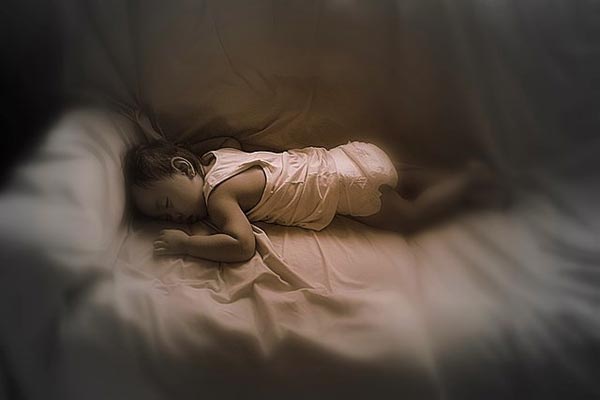 ---
15 may 2005
Photography
It takes a lot of imagination to be a good photographer. You need less imagination to be a painter, because you can invent things. But in photography everything is so ordinary; it takes a lot of looking before you learn to see the ordinary. — David Bailey
---
17 may 2005
An Ear To Listen

---
18 may 2005
We Are Connected
The reason it hurts so much to separate is because our souls are connected. Maybe they always have been and will be. Maybe we've lived a thousand lives before this one, and in each of them we've found each other. - Anonymous
Reminisce
Someday, when we both reminisce we'll both say, 'There wasn't too much we missed,' and through the tears we'll smile when we recall we had it all for just a moment. - St. Elmo's Fire
---
19 may 2005
My Life's Journey
You are my life's journey...and I'll find my way to you...
---
20 may 2005
Sunset in Lahaina


Do you see beauty in sunsets? When I look at the sunset, I see you. I love you.
---
21 may 2005
Charity Walk 2005
You maybe wondering why there's no design entry of the T-Shirt contest for this year's Charity Walk. The theme is Mahalo to our troops! It is because I didn't get your blessing. I would have won again if I have entered in the contest but my long time competitor didn't give up. He won because I didn't enter. I wasn't able to get to the venue on time because I was busy with something at home. The good news is that we won in the singing competion. I was happy for my friend for winning.
---
22 may 2005
Pupacat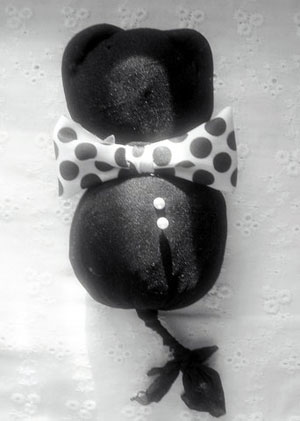 Behold a black cat! His name is Pupacat! One of the wonderful Creations of Kela™ collection soon to hit the storeshelves.
---
23 may 2005
Week in Kauai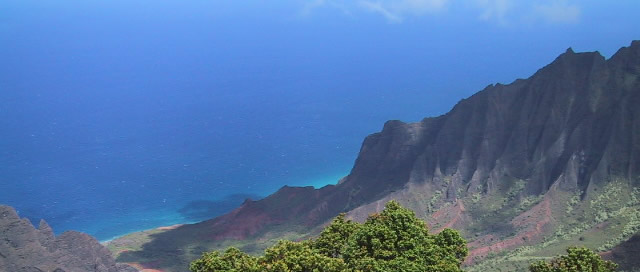 Let's go to Kauai and spend the week there. Remember Lilo and Stitch? This is where Stitch landed and found his ohana. Let us make our own ohana.
Kauai Drive Music List
1. If You're Not The One (Daniel Bedingfield)
2. Material Girl (Madonna)
3. Do You Really Want To Hurt Me (Culture Club)
4. Heaven Is A Place On Earth (Belinda Carlisle)
5. I'll Be There For You (Bon Jovi)
6. Sometimes A Fantasy (Billy Joel)
7. Turn Back The Clock (Johnny Hates Jazz)
8. Smooth Criminal (Michael Jackson)
9. Radio Gaga (Queen)
10. Bye Bye (Jo Dee Mecina)
11. Daughters (John Mayer)
12. Because of You (Keith Martin)
13. Hot In The City (Billy Idol)
14. Sexual Healing (Marvin Gaye)
15. Coming Home (Michael Learns To Rock)
16. Mr. Vain (Culture Beat)
17. I'm Like A Bird (Nelly Furtado)
Ohana
The flight was a gruesome two hours from Maui and then stopping over in Honolulu and then to Kauai. I got some catnaps during the flight. When I got to Lihue with my heavy load. I'm sorry I couldn't pack light but I need all these things for the trip. I had a box of Krispy Kreme doughnuts for my friend here to trade for lunch since I'm too lazy to cook food. I might have the time since I had filled the fridge with foodstuffs in my 2-bedroom suite complete with kitchen, living room, and dining room.
---
25 may 2005
With You In Mind
by Phil
ALONE...The candle burns in the dark
The company being the sound of its heart
with only its light,it burns
Like love for another, it yearns
UNTOUCHED...The candle let's wax slip
It burns with a shiver upon the lip
The candle goes out,but lights once more
As their is someone for which this candle burns for.
CONTENT...The candle burns brighter again
She is here to alleviate the pain
Under the candle light they begin to touch
Who could believe they missed this much?
DEPARTED...The candle continues to heat
For the love stays to the sound of the beat
The candle lights a room with a smile,
Although she may be separated by miles.
RETURNED...The candle was only a sign
The hearts are together and she remains mine
The candle is there and still quite near
But it is clear, that we will see heaven from here...
---
26 may 2005
Inspiration
"When she is the cause of your inspiration, when the world appears under a wonderful new light, when suddenly the meaning of your life is obvious...then you are in love. In everything you do, do it with love, and love will always be with you." - Anonymous
---
27 may 2005
Open to Change
Keep your mind open to change all the time. Welcome it. Court it. It is only by examining and reexamining your opinions and ideas that you can progress. — Dale Carnegie
---
29 may 2005
Bound to Others
Anonymous
I cannot promise you
a lifetime or even a day
For my days and yours
are bound to others
through a lifetime commitment.
What do you think of this poem. Isn't it sad? I really don't know what to think of it...pero it is sad. Probably this person knew his/her fate kaya sinulat nya ito at ibinigay ito sa kanyang kasintahan. If we are bound for each other, it's going to happen for by fate we are to be.
---
30 may 2005
I Will Always Be Here For You
Anonymous
We seem to spend our lives
planning for the future...
tomorrow is always in our thoughts
while today slips away,
and yesterday sometimes returns
to remind us of our mistakes.
We try to hold the special moments,
forgetting that the best is yet to come;
that tomorrow is another day,
another chance to take,
another dream to fulfill.
Relationship don't always succeed,
friendship sometimes change,
but i want you to know,
no matter what else happens to us...
I will always be here for you.
Open arms to hold you,
an open heart to love you,
an open mind to listen.
You will never be alone.
Together we'll create new dreams
and take our chances.
If we fail, we won't hurt so badly,
because a friend's caring love
heals all wounds, no matter
how deep or painful.
So give me a smile that I can return,
a moment that we can share.
Allow me the time
to know you completely,
and I will always love you
just the way you are.
Contemplative Prayer
I was talking to my friend a while ago told me about contemplative prayer. I am going up the mountains today and be with my God...to be appreciative of His creations and have my commune with Him. In my life, I have so much to learn especially in this dog-eat-dog world.
Fleur de kul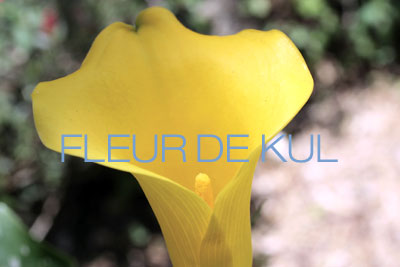 One of the photographs of flowers I took while I was at the Kula Botanical Garden in the slopes of Haleakala.
---
31 may 2005
Cosmic Assistance
The stars want to lend you a helping hand—all you need to do is ask. - Yahoo TXT
It's so funny, that the universe knows that I am in distress. I believe I may have sent an SOS while I was at my prayer mountain.
Affirmation
Savage Garden
I believe the sun should never set upon an argument
I believe we place our happiness in other people's hands
I believe that junk food tastes so good because it's bad for you
I believe your parents did the best job they knew how to do
I believe that beauty magazines promote low self esteem
I believe I'm loved when I'm completely by myself alone
I believe in Karma what you give is what you get returned
I believe you can't appreciate real love until you've been burned
I believe the grass is no more greener on the other side
I believe you don't know what you've got until you say goodbye
I believe you can't control or choose your sexuality
I believe that trust is more important than monogamy
I believe your most attractive features are your heart and soul
I believe that family is worth more than money or gold
I believe the struggle for financial freedom is unfair
I believe the only ones who disagree are millionaires
I believe in Karma what you give is what you get returned
I believe you can't appreciate real love until you've been burned
I believe the grass is no more greener on the other side
I believe you don't know what you've got until you say goodbye
I believe forgiveness is the key to your unhappiness
I believe that wedded bliss negates the need to be undressed
I believe that God does not endorse TV evangelists
I believe in love surviving death into eternity
I believe in Karma what you give is what you get returned
I believe you can't appreciate real love until you've been burned
I believe the grass is no more greener on the other side
I believe you don't know what you've got until you say goodbye