14 nov 2003
Still at 30,000 feet
A veteran of the Second World War who is from Capas, Tarlac was seated by me. He is having a bout of a certain type of cancer. We have a long conversation about the war. I asked him if he joined the infamous Death March. He said he was fortunate enough to elude the Japanese Imperial Army's wrath. He was a very kind man and learned from him he has sixteen children. I hope I heard him clearly. At 1430H (Manila Time) as the plane touched down, I clapped my hands and the rest of the passengers followed. I've learned that from my recent trips to the Philippines.
Setting foot on Manila
The Manila air filled my lungs and got me the jolt to my transformation into the subculture that is prevailing in the city. But, I am my individual self in my humble being and still a Maui boy with the hints of aloha in mind and spirit. As soon as I got hold of my mobile phone, I sent a text message to you and got a quick reply. Thank you for that and that gave me a smile and glitters in my eyes. Thanks for the welcoming wishes as well. I could feel the gladness in you and I'm looking forward to be with you in the moments set forth by fate.
My brother's father-in-law, my cousins came to pick me up and we have to stop by in Paranaque to rest for a short while before we went to La Union. It was another 300-km journey on land. The next day is my friend's wedding in Caba, La Union. It was an hour drive away from my home. I've sent text messages to other friends about my presence in the Philippines and they were all glad. My cousin's family in Paranaque were very happy to see me again. I told them about our coming town fiesta next week and they're all invited since Mom is coming home, too from Maui next week. After having dinner, we left for La Union and that took us another seven hours. My butt was again hurting from sitting down. I had that while I was on the plane. Be patient, I told myself. When we reached Caba around 530 a.m., we dropped by at Leonard's home to surprise him that I am attending his wedding. I sent an RSVP card that I wasn't attending before. He was surprised and happy to see me and knowing that I am attending his wedding in the afternoon.
---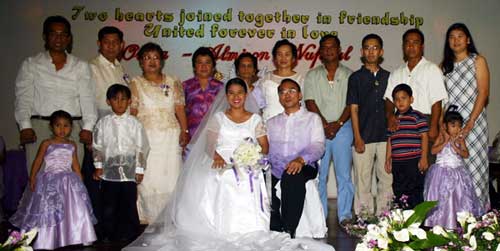 15 nov 2003
Here Comes the Bride!
Congratulations to Leonard and Charissa Almiron! I'm so happy that he is finally married and I came a long way to see that. Originally, I was the bestman in the wedding I was asked to be the photographer in the occasion.
---
19 nov 2003
A trek to the concrete jungle of Manila is set to begin. Taking a bus ride to Manila late in the night in order to reach the city by sunrise. Travelling alone was not the order of the day but I did it anyway. The trip from Ilocos to Manila will be about 6 hours thereby saving two to four hours of commute time. My butt would be hurting again, hahahaha. What can I do? Bring a foam cushion? I was sleeping on and off and sat at the tail end part of the bus on the right side. It was freezing cold but thanks to the warmth of my windbreaker. I packed heavily for my Manila visit and was ready of what's ahead.
What Is Ahead?
Where would you find where your heart beats? Where you find that smile that would touch you? Where would you find that stolen glance that you never noticed? What's ahead is a maze that you would trek. The signs are around you and you won't be lost.
---
20 nov 2003
Manila, Manila
The bus arrived in the early morning. I sent an SMS message to my friend to fetch me at devastation (the bus station). A few minutes of tireless waiting, he arrived and we stepped into a seminary house where he resides. I got to meet his brethren. We were offered to have breakfast. A partially burnt longanisa and sinangag was served. I'm not mapili with food but it was the best that I have since my tummy was empty. I also had a cup of coffee. I preferred black but I tried it with cream. I don't put sugar on my coffee. No Sweet 'N' Low, too. After breakfast, my friend took me to the rooftop to view the cityscape. Metro Manila is foggy in the morning I thought. The reality is, it is smog. At least there are trees still that filter the air to sustain life in the city.
The Bird and The Fish
Worlds set apart by the ocean and the air has been bridged by their friendship they have forged over the years. Now, he's there and surrounded by her presence and grace, unspeakable gladness dazzled in him.
Your Name
The very moment I knew your name is tantamount to true friendship. Thank you.
Johnny Come Lately [The New Kid in Towne]
(entry pending)
---
21 nov 2003
Have you ever met the person you can't live without?
Finally, they met in the presence of themselves. Hemight not have said thank you but deep inside without words to say, the universe have conspired to make this happen.
---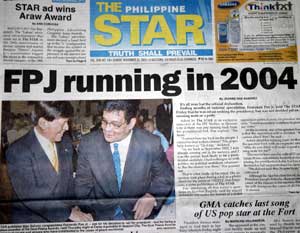 23 nov 2003
FPJ Is Running In 2004!
Is this news or what? I was shocked to read this. I don't know what to say but why would FPJ just suddenly decide to run since he have not tried any elective office in the past? Is this a ploy by the opposition to win the presidential seat? Lotsa questions in my mind. I wish FPJ good luck as well as the other players in the presidential race. All of them have the desire to help bring the Philippine nation great again. I urge the Filipino people to vote with their conscience because this is a turning point in Philippine history that this country will rise from where it was toppled down.
It has been my great desire that the Philippines will become a nation of great wealth and power in God's favor. With the faith and patience of the Filipinos, they will be once again be a beacon to the world in darkness.
Welcome to the Philippines Mom!
Mom has finally arrived from Maui. I certainly miss her, specially her cooking. And of course, she's going to be on my tail again. Well, that's what mothers are for. They look over to the well being of their children.
---
27 nov 2003
Alma Mater. What matters most?
It was the Luna National High School's quadrangular sports meet where I met with my former teachers in high school. I have exchanged stories with them and laughed together. They have asked me where is she? I didn't have an answer. Have I found her? Has she been found but was lost again? I have ask them to pray for me that she would be found. And if she's found, what is keeping them from getting to each other? These are questions needing to be answered. Life must go on even how sad it is to lose a special friend for unknown reasons. My former teachers saw the sadness in my face and consoled me. They were still the same since I graduated more than ten years ago.
A high school classmate is now a teacher there and she showed me around. I was piqued by the computer classroom where it is lacking the key components to advancement in the learning of information technology. The teacher who is my brother's high school classmate is in charge of the IT department. I offered him my assistance because I have a lot in my disposal old hardware that somebody would be needing. They lack a server and a laser printer. The school is underfunded. I don't understand why this is happening to these students who has the incredible potential to excel later in life. I will do in my humble capacity to help my townmates a chance to fulfill their dreams.
Textthots
You may think that time makes people forget. But the longer the time people spend apart, the more it makes them remember each other.
---
28 nov 2003
A Visit to Dad's Grave
Hey Dad, I'm here again in the Philippines. What do you wish for me? Sapay la kuma ta addaka pay la a biag tapno makitam dagiti nagun-od ko nga balligi iti biag ken addaka nga mangtarabay kaniak no adda pannakapaay.
---
29 nov 2003
The Summer Capital
My family went to Baguio City and was excited to shopping at the new SM Baguio mall. We don't have big malls in Maui so this is where I come to enjoy the luxury of malls. I tell you, life is just simple where I am from and that is what I love about living in an island paradise. You may call me baduy over this kind of euphoria but I wanted to be me perhaps you would love me as a person just as I am and both of us shall be happy unmasked of the persons we pretend to be living in. I thought of you when I was there and perhaps be the person you really are and see the beautiful you.
I had a chance to see some friends from Manila visiting the city of pines. We didn't have a chance to go boating in Burnham Lake. Text messages are so convenient to let friends and loved ones know how much you care. But the presence could have been better if there is a choice.
Baguio City was once a very clean city. Progress and development is inevitable. I thought of settling down in this part of the country or maybe in Tagaytay which is near to Manila. Baguio is close to my home down in La Union. I'll just see where my journey in life would lead me. But first, I want this journey to lead me to you first so hand-in-hand we plan and work out our life together.
Textthots
True people are those capable of caring from a distance, far enough to make other people grow but never too far to feel the love within their hearts.
---
30 nov 2003


Turning Away
The very moment that you turned away your glimpse of the sun, that you were unaware that your shadow has been following you. The sweetness of the air of longing have faded with the breeze.