01 september 2004
Berrrs
Today is the first day of the ber months. It's almost Christmas and I can just smell the puto bungbongs being cooked and ready to be eaten. I am missing my home sweet Philippines where my roots are. Some people leave and never look back because there is no more hope. There is something about the Philippines that is pulling me in. What is it? Could it be you?
The HILL
In the trek uphill, it is a journey. Life is in dual aspects. Climbing the hill during a moonlit night where up in the distance was a tree towering over the people under her shade. Are you coming up and climb the tree so we can look over the cityscape in the distance? From this hill, we can build into our dreams where there is no more uncertainty.
---
02 september 2004
Hands to Heaven
by Breathe
As I watch you move, across the moonlit room
There's so much tenderness in your loving
Tomorrow I must leave, the dawn knows no reprieve
God give me strength when I am leaving
CHORUS:
So raise your hands to heaven and pray
That we'll be back together someday
Tonight, I need your sweet caress
Hold me in the darkness
Tonight, you calm my restlessness
You relieve my sadness
As we move to embrace, tears run down your face
I whisper words of love, so softly
I can't believe this pain, it's driving me insane
Without your touch, life will be lonely
CHORUS
Morning has come, another day
I must pack my bags and say goodbye, goodbye
CHORUS
Postcards [a photo gallery]
Over the years, friends from all over sent me postcards. I also have postcards I acquired for myself in my travels. Here are some of them and the thoughts written behind each postcard. Do you remember Griffin and Sabine? Their story started with a postcard.
---
03 september 2004
---
04 september 2004
Worrying
"So long as you are still worried about what others think of you, you are owned by them. Only when you require no approval from outside yourself can you own yourself." - Neal Donald Walsch, Conversations with God, pg. 4
---
05 september 2004
Stepping Up
"The rung of a ladder was never meant to rest upon, but only to hold a man's foot long enough to enable him to put the other somewhat higher." - Thomas Henry Huxley
Living
LIVE LIKE NO ONE IS WATCHING!
---
06 september 2004
Opportunities
"Many an opportunity is lost because a man is looking for four-leaf clovers." -Anon
Doors
"The doors we open and close each day decides the lives we live." - Flora Whittermore
Textthots
Emperor Caligula made his horse a senator. Titles, positions and ranks are nothing without character and values. Gud PM!
---
07 september 2004
Reciprocity
"Tsze-Kung asked, "Is there one word which may serve as a rule of practice for all one's life?" The Master said, "Is not Reciprocity such a word? What you do not want done to yourself, do not do to others"
---
08 september 2004
Digging for Gold
Are you after guys for their money? Or are you the anti-material girl? Take this quiz.
---
09 september 2004
Societies That Did Not Tell Stories
"There have been great societies that did not use the wheel, but there have been no societies that did not tell stories." – Ursula K. LeGuin
---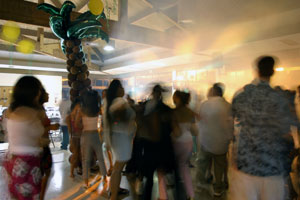 10 september 2004
Video Crew
I just got home from a party. It was a debut and a graduation party. I was called in by a friend of mine to be in as a crew member in their video outfit. There were lots of people especially youngsters. Some girls were dressed inappropriately. I never paid attention to it. Times has changed. I wonder what their parents from a distance were thinking. Is it just the media that we should blame? No, everything traces back at home. Through the proper rearing of a child, he grows with the values and virtues of his culture and also with ther one's borrowed from other cultures which are deemed to be helpful in a child's development. Basically, it is education.
I learn a lot from my passion of looking through the lens. I capture the emotions, the actions of people. I may not define them as such but I capture the moment in their life at a state of who they are. I am a photographer. But I worked as a videographer this evening.
---
11 september 2004
Sixteen Years Ago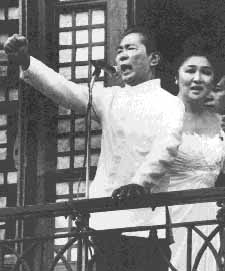 Philippine President Ferdinand Marcos was still alive when I arrived in the islands. He was in Oahu on exile and fallen ill. He wished to go home but the Aquino administration refused his request. He died and his remains were flown back to Manila on the auspices of the Ramos government. His family wanted a hero's burial in the Libingan ng mga Bayani but there was a widespread protest around the country. The Estrada administration failed to make this happen. Will the present Macapagal-Arroyo presidency, who is out on a healing-the-nation crusade, will finally make a widow's wish happen?
Today marks his 87th birthday. I wish I have met the great man while he was still alive. I could have told him he was doing well in building the nation.
Liberating the People
The question here is, what would really liberate the Filipino nation? We shouldn't blame our leaders for the fate of this nation. These leaders also belong to the basic unit of society--the family. It is within the family that our outlook in life takes shape through our parents' living example. And then we integrate ourselves into society ready to expand our horizon and be an agent of change for the betterment of this country--our beloved Philippines!
---
12 september 2004
Objects [a photo gallery]
Everyday objects.
---
13 september 2004
Traffic
Traffic movement wwas slow as I approached my workplace. The reason was due to a vehicular accident nearby causing delays on hotel workers getting to their places of work. A life was lost.
---
14 september 2004
Arisa [a photo gallery]
A sight of this beautiful creation can melt away a gloomy day.
---
15 september 2004
Writing
"Writing is a form of therapy; sometimes I wonder how all those who do not write, compose, or paint can manage to escape the madness, the melancholia, the panic fear which is inherent in a human situation." – Graham Greene
---
16 september 2004
About Life
"In order to write about life, first you must live it!" – Ernest Hemingway
---
17 september 2004
Love, Truth & Honesty
by Bananarama
Ooh...
(Verse one)
Never trust your own emotions
They'll always let you down
And the one that's closest to you
May not always be around
(bridge one)
I never questioned
The promises you made
Every time i gave my heart
I was betrayed
(chorus one)
What a fool that i should ever believe
In love truth and honesty
All the time
You just keep on hurting me
(verse two)
Maybe everyone's a stranger
I watch them come and go
But i think everyone's in danger
If they let their feelings show
(bridge two)
There's a lesson
And a price you have to pay
If you give your heart
Dont let it be betrayed
(chorus one)
(chorus two)
What a fool
Every time I find I'm deceived
Where is the love, truth and honesty
If you see it
Won't you bring it on home to me
(bridge two)
(choruses one and two repeat fade)
---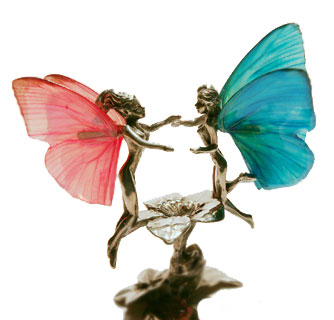 20 september 2004
Mga Diwata
Do you still believe in fairy tales?
---
21 september 2004
Martial Law - 32 Years Ago
I was watching a documentary on TFC about the declaration of Martial Law in the Philippines by President Ferdinand Marcos in 1972. It was a lookback into the Philippines' dark days. Our basic rights were taken away to give way to a new society. It was a novel idea but its outcome brought in mass hysteria and rebellion by the general populace. Massive spending and borrowing brought the country to its knees and the people decided to take back democracy from the Marcos dictatorship in 1986. The Filipinos have gained back their freedom but still held captive by the huge debt the country has incurred since the days of Marcos. As long as poverty besets the lives of the Filipinos, total freedom won't be achieved. Martial law could have been a huge success if it has benefitted the whole country and not a handful of people.
There is still hope because today's leaders are doing their best to put back the country in it's pre-martial law state. A father passes on to his daughter the legacy of the country he helped built.
---
22 september 2004
Sense and Sensibility
Could I have been blind? When my eyes were wide open? When your set of truths is opposite mine? -Keoni
---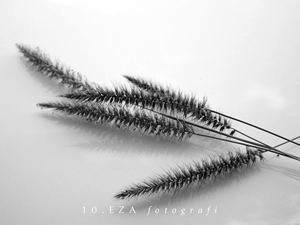 24 september 2004
Photography Contest
I've sent my entries to the 82nd County Fair Photo Exhibit which will be displayed from September 30th to October 3rd. Wish me luck.
---
25 september 2004
One Hundred (100) Points
I was at party last night and dared myself to sing on the videoke. I sang Ric Segreto's 'Kahit Konting Pagtingin' with an amboy accent. I waited for the score and to my wow, 100 points! Can you give me a round of applause? The birthday celebrant, Jeric who turned 12 congratulated me and he told me I sound like a pro. Hahaha, he was just pulling my leg. Anyway, that made myself feel good. I have made 100 points. A first time record.
---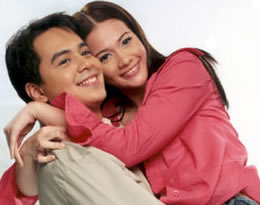 26 september 2004
Now That I Have You
Mom and I watched the movie Now That I Have You featuring John Lloyd Cruz and Bea Alonzo. Originally, I was planning to go watch another movie alone since Mom has her own set of favorite Filipino actors and actresses and wasn't interested in watching the movie. Since she wanted to come, we watched the Filipino film. The movie came out to be good. I hope you will watch it, too, though you hardly watch Filipino films.
Now That I Have You is a film about love. The lesson learned here is no matter what one's flaws or differences your mate have, accept it wholeheartedly. That makes one unique and you will appreciate the person more. Try not to assimilate him into your set of beliefs and norms and he/she will appreciate you more and love you unconditionally.
Let's help keep the Filipino film industry alive. They produce some movies at par to Hollywood productions. Just believe in Filipino film ingenuity.
No Matter
by Boyzone
I saw a tear in your eye
How could I be so glad
To let you walk right out of my life
Just watch you break down and cry
(But now it's time)
Now it's time
To let you know
What's on my mind
That I
I never knew love like this
But no one will ever love you more
I promise you this
Oh...
No matter what comes my way
No matter what else may change
Nothing will change
The way I feel
My love for you
Is neverending
And no matter what
I'll never stop loving you
I know that I need to try
To realise what I was doing
To let you run and let you hide
I got this fear deep inside
Without you my life's not worth living
It's in my arms that you belong
And now...
I know I understand
What we have now complete
You're my everything I need
And you
[CHORUS]
It's only you yeah
Who turned my darkness into light
Who made my day ran smooth
(Give me strength)
Give me strength to carry on
(Give me hope)
Give me hope when all is gone
No matter what
I'm gonna give you love
'Cos baby I will never stop loving you
yeah it's you
No matter what comes my way
No matter what else may change
Nothing will change
The way I feel
My love for you
Is neverending
And no matter what
I'll never stop
No matter what comes my way
No matter what else may change..
---
27 september 2004
As the Hand has Written
Truly, there exists a hand that writes the destiny of of every man and woman.